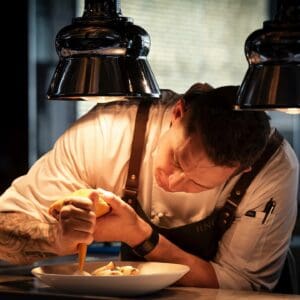 Eclipse Restaurant at Hotel Sky is the new home of style, indulgence, and unforgettable experiences in the heart of Sandton.
African-chic Eclipse Restaurant stands out from the rest as the most playful of them all, but the concept is beautifully executed with an excellent menu and service. Step inside and escape to a world of extravagance and entertainment.
A combination of Chicago, burlesque glamour and exquisite elegance, Eclipse Restaurant holds true to its name – meaning when the sun, earth or moon cross paths to create a special magic show. The quirky and stylish interior is over-the-top in the best way possible, boasting the perfect blend of vibrant, modern colours, plush velvet, wood and custom furniture pieces – think black and gold leopard and zebra print dining chairs, crystal chandeliers that make for a glittering attraction and a myriad of unique accessories to add the final touches. Just like the proudly African culture, the bright and colourful space has been designed to dazzle and adds a lot more than a little sparkle to the City of Gold.
Set to shake up Johannesburg's dining scene, at Eclipse Restaurant the excitement goes beyond what's on the plate. Hotel guests and visitors can look forward to an eclectic à la carte menu of flavourful dishes and invigorating cocktails coupled with live entertainment on select evenings.​
From live music to cabaret cavorts, burlesque beauties and amazing theatrical acts, as visitors enter into the magical world of delectable cuisine, live entertainment and sumptuous design, they enter into an enchanting experience.
What's more, if diners fancy a panorama with their meal, thev've come to the right place as the floor-to-ceiling windows afford gorgeous city views. Choose between the opulent dining room or bar area, or the sun-drenched open terrace.
Address: 150 West St, Sandton, Johannesburg
Times: Wednesday to Saturday 6.30pm to 10.30pm
Tel: 010 880 0132
Email: info@hotelsky.co.za
Website: eclipserestaurant.co.za
Facebook: Eclipse Restaurant
Instagram: @eclipserestaurant_sa
Twitter: @EclipseRestaur3