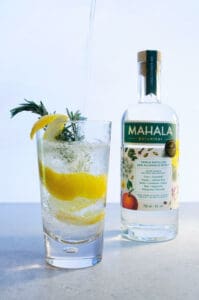 An exciting new addition to the dynamic No & Low movement – Mahala Botanical is crafted from nine botanicals and each bottle is hand-produced at Dona Distillery; from farm to glass.
And what is 'No & Low'? It is an exceptionally fast-growing segment of the global drinks industry. The pandemic accelerated an already popular health and wellness trend and sober-curiosity is on the increase with a growing audience of moderate drinkers or complete abstainers.
Driving the No & Low trend are discerning consumers who are looking for an upmarket drink that contains no alcohol, sugar or other additives. They are prepared to pay more for a drink that is an experience, has a story and, like fine wines, a hand-crafted aspect.
In response to this growing demand, Mahala Botanical was developed in 2020. A locally produced, non-alcoholic, triple-distilled spirit imbued with the flavours of Cape fynbos, Mahala Botanical is the brainchild of Capetonian Danielle Schoeman, one of the few female Master Distillers in South Africa, and is produced at her craft distillery in Cape Town.
Inspired by the Cape fynbos, Danielle created Mahala with nine botanicals some of which are indigenous to the Cape.
It is a true farm to glass process with Danielle and her team involved in every step. Ethically sourced plants, some from Danielle's family farm, are first macerated in a high-proof spirit to extract the flavours. Water is added and the alcohol removed before further distillation in Dona's custom-made stainless-steel vacuum stills.
Tel: +44 793 921 3369
Email: info@mahalabotanical.com
Website: mahalabotanical.com
Facebook: @mahalabotanical 
Instagram: @mahalabotanical