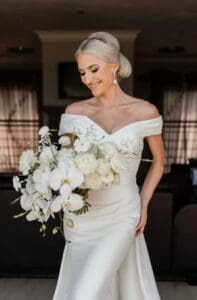 Femme Pétale Flower Farm cultivates a farm-to-vase mindset when it comes to flowers.
Founder Teneale decided in early 2019 that she wanted to farm and design with her own flowers and that is where the seed for this journey was planted. Teneale grows on less than a hectare of land. Utilizing all the space carefully as well as making it a serene oasis to get lost in, she have taken over her mom's garden in 2021 and in 2022 Femme Pétale Flower Farm is more than doubling in size. Planning the area out to make the most out of the space but also make it a usable space for workshops, events and shoot locations.
The farm also has a breeding garden for new varieties and a garden dedicated to growing grasses, pods and grains for the dried market. They grow completely organically and no chemicals are added to the garden.
Teneale would like this to not only be a cutting garden but an inspirational space to be enjoyed and to learn and cultivate creativity in. The Field to Vase Workshop will show attendees Teneale's mechanics and design process for making their own stunning arrangement to be used for the home or will give them the skills to try this arrangement for their own events at home.
Address: Intundla Game Lodge, Portion 7 Boekenhoutskloof, Hammanskraal Rd Private Road Dinokeng, Gauteng
Tel: 082 804 1547
Email: info@femmepetaleflowers.co.za
Website: femmepetaleflowers.co.za
Facebook: @femmepetaleflowerfarm 
Instagram: @femmepetaleflowerfarm