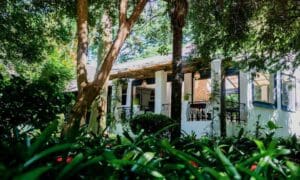 Silver Orange Bistro is a unique restaurant set in Hartbeespoort on a lush green citrus orchard called Altyd Mooi which has been in the family since 1978.
Over the years this farm has transformed into a perfect location to create something that the owners have been passionate about from a young age, and this passion and desire has led them to where the restaurant stands today.
The restaurant was established in 2004, with strong European influences and African flair, each dish is carefully created with flavours that complement one another; the menu is changed according to the season as the chef and executive director, Leon Nel, believes in only preparing with the freshest ingredients.
The beautiful thatch manor house which was once Nel's grandmother's house still shows her intriguing taste for antique Murano crystal chandeliers creating a fine dining experience at Silver Orange Bistro.
Address: Altyd Mooi Farm, R513, Hartbeespoort, Gauteng
Times:  Dinner: Wednesday to Saturday 5.30pm to 8.30pm| Lunch: Thursday to Sunday 12pm to 3pm | Breakfast: Saturday and Sunday 9am to 10.45am
Tel: 082 378 2948
Email: events.silverorange@gmail.com
Website: www.silverorangebistro.co.za
Facebook: Silver Orange Bistro
Instagram: @silverorangebistro