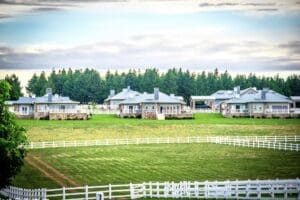 Enjoy a luxury vacation destination at Dunkeld Country & Equestrian Estate, located about three hours from Pretoria or Johannesburg.
Nestled in the charming town of Dullstroom Mpumalanga, this holiday spot is close enough for a weekend getaway and far enough for a well-deserved escape. Dunkeld Country and Equestrian Estate is synonymous with peace and tranquillity. With breathtaking views featuring highlights such as the sky-scraping Blue Gum forest, pristine fly-fishing lakes, manicured gardens and the sprawling mountain range.
Whether visitors want to put their feet up by a crackling fireplace or soak up the beautiful nature that Dullstroom is famous for, Dunkeld Country & Equestrian Estate is the perfect destination. This space offers guests a range of activities including horse riding, fly-fishing, mountain biking and so much more.
Choose from a variety of accommodation options, ranging from hotel rooms to self-catering villas and chalets with so much to offer, including two on-site restaurants, a spa and a chapel. Dunkeld is the perfect destination for a well-deserved family vacation, a romantic weekend away, a fishing trip, corporate events or weddings.
Address: 80 Tonteldoos Rd, Dullstroom, Mpumalanga
Tel: 071 745 1652 | 078 293 1403 | 078 435 8579
Email: reception@dunkeldestate.co.za
Website: www.dunkeldestate.co.za
Facebook: @dunkeldestatedullstroom
Instagram: @dunkeldestate