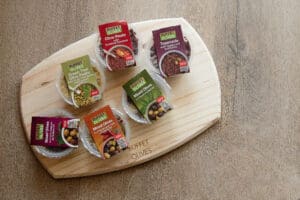 At the foothills of the Drakenstein mountains outside Paarl in the Western Cape is a 180-hectare farm of olive groves. This is the farm where for the past 50 years South Africa's favourite table olives – Buffet Olives – have been lovingly grown. Buffet Olives is a familiar brand on grocery store shelves and now consumers can enjoy six new additions to the range that include delicious and easy to serve pestos and tapenades.
The new ready to eat products draw inspiration from the Spanish style of eating and are conveniently packed in a 100-gram sealed cup, making them easy to share and pair on a snack platter, add to a picnic basket and include in the lunch box. The new range is plant-based, joining the global food movement of healthy snacking.
Olives are packed with flavour and are a healthy source of vitamins, minerals and amino acids. They're a fermented product which means that they're excellent for maintaining gut health. Their flavour and easy to eat size make them an ideal accompaniment to flavourful dishes, beautifully prepared platters, easy aperitifs and delightful appetizers.
Think mouth-watering fish and meat cooked with olives, olive-based pesto tossed into pasta, kalamata olives sprinkled on pizza, bread-dough mixed with green or black olives, bruschetta with olive pesto, olive tapenades on a cheese platter or spread on a gourmet sandwich, the possibilities are endless. Buffet Olives products, including the range, make for an exciting addition to numerous dishes and provide opportunities to really get creative with flavours.
New range of Pestos and Tapenades
• Mixed Olives in toasted Cumin, Chilli and Orange Oil
This Moroccan-inspired mixed olives cup is infused with toasted cumin, chilli and orange oil to give diners all the heady aromas and tastes associated with classic African and Middle Eastern cuisine. An essential ingredient for the next tagine or home-cooked stew.
• Mixed Olives in a Thyme and Basil Oil
This classic Italian herb combination, infused with thyme and basil oil, is the perfect appetizer before a meal, with dipping oil for that warm baguette or ciabatta. It is also the ultimate, healthy, anytime snack or picnic hamper ingredient.
• Mixed Olives with Thyme, Oreganum and Rosemary Oil
This Greek-inspired mixed olives cup is infused with thyme, oreganum and rosemary oil. Simple sun-kissed Mediterranean flavours at their best. Enjoy as a topping on a salad, in a Mediterranean style oven bake or as the perfect on-the-go snack.
• Tapenade with Capers and Anchovies
This flavourful Mediterranean-inspired tapenade is the perfect partner to all summer alfresco meals. It is best enjoyed with a collection of fine-cured cold meats, cheeses, pickles and s favourite bread.
• Olive Pesto with Sundried Tomatoes
This Italian-inspired pesto is a luxurious partner to any cooked pasta. Alternatively, use it as a bread spread with a selection of toppings for that perfect Italian "bruschetta". Don't forget to add a glass of red wine as the ultimate accompaniment.
• Green Thai Olive Pesto with seven Thai Spices and Coconut
A perfect marinade for fish dishes or as an addition to an Eastern-inspired bowl of noodles. Rub onto prawns, pop into a pan and enjoy the mouth-watering spice flavours of the Far East. Or, add a couple of spoons to the next curry for a warm, hearty, Far Eastern flavoured meal.
Address: Swawelstert Road, Paarl, Western Cape
Tel: 082 324 0801
Email: jennifer@buffetolives.net
Website: buffetolives.com
Facebook: @buffetolives
Instagram: @buffetolives