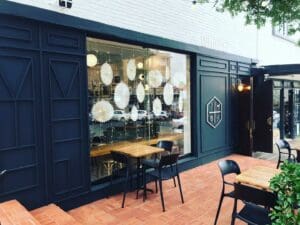 The Whippet Coffee in Linden aims to fundamentally change the coffee shop industry in South Africa.
The Whippet team opened the Linden store in 2012, with the vision of creating a neighbourhood-inspired coffee shop. Back then and still now, the team pays homage to the peach farming history of this amazing suburb. From the beginning, The Whippet Coffee set out to be a neighbourhood destination, a connection point with the neighbourhood and residents' stories.
Coffee is a sit down moment, an intimate time together with loved ones. This location sources only the best beans, roasted by an all-female roasting team and then blended and made with passion and love by competition-ready baristas. Suzanne, one of the owners, is passionate about creating dishes that evoke a feeling of nostalgia. She creates a food and drinks experience that speaks to warmth and belonging. The team calls this simple, good feel food.
The shop's designs are inspired by Linden and its history and by the stories of those who call it home. This space evolves with the suburb and as it creates new stories they create new ones with it.
Address: 34 Seventh St, Linden, Johannesburg
Times: Monday to Thursday 7am to 4pm | Friday and Saturday 7am to 5pm | Sunday 8am to 2pm
Tel: 079 711 5604
Website: thewhippetcoffee.com
Facebook: @thewhippetcoffee
Instagram: @thewhippetcoffee