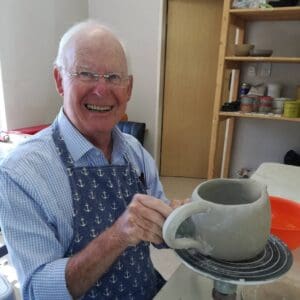 The Pottery Studio in Bryanston is an informal group of dedicated and passionate studio potters John Shirley and Michelle Legg.
The Pottery Studio finds that most people who come to the studio are looking for a few hours where they can relax, just be themselves, meet new people and make beautiful things. Working with clay is therapeutic. Not only is the process enriching, but taking home a beautiful handmade piece is enormously gratifying. Pottery is for every age and every walk of life.
All levels of experience are welcome to attend classes and workshops. Beginners can look forward to exploring various clay forming techniques such as pinch pots, coil building, slab building and throwing on the wheel. Basics of clay and glaze composition are discussed throughout the classes in a relaxed and informal manner.
All aspects of the formation process are explained so as to have a full understanding of the entire ceramic process. Students are encouraged to draw inspiration for their work from their own personal accounts of the world around them. Once the student is comfortable with the medium, individual projects are encouraged that may be initiated by the student or teacher. Each student works at their own pace and individuality and originality are encouraged.
This venue is wheelchair accessible and secure parking is available.
Address: 24 Old Kilcullen Road, Bryanston, Johannesburg
Times: Monday to Thursday 9.30am to 12.30pm | Saturday 9.30am to 12.30pm | Wednesday and Thursday 6pm to 9pm
Tel: 083 407 5968
Email: johnshir@gmail.com
Website: www.potterystudio.co.za
Facebook: @potterystudiobryanston
Instagram: @the_pottery_studio_bryanston