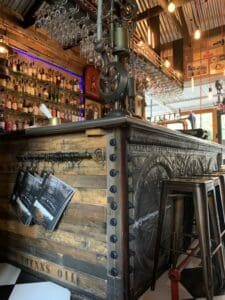 Cut & Craft Bistro creates comfort food with a twist, made with love and taking tastebuds on a journey through South Africa.
Cut & Craft Bistro is so much more than just a bistro; it's a lifestyle. The only goal they have is to do better than the previous day as they search for perfection and strive to exceed every expectation. The staff truly hope that visitors will come and share in what they love most.
The homemade foods are crafted to old-style rustic recipes, some passed down for generations and chefs use only the freshest top-quality ingredients for the food and strive to source mostly organically grown produce. Herbs are sourced from the bistro's own herb garden and soon they will have greens growing on their vertical hydroponic garden wall.
Address: 159 Queen St, South Kensington, Johannesburg
Times: Open daily 7am to 9.30pm
Tel: 011 615 0230
Email: cutcraftbistro@gmail.com
Website: cutcraftbistro.co.za
Facebook: @cutcraftbistro 
Instagram: @cutcraftbistro