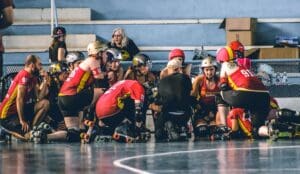 Golden City Rollers is a flat track Roller Derby League based in Johannesburg.
Founded in 2010, it was the first roller derby league on the African continent and the first SA member league of the international Women's Flat Track Derby Association. It is run by the skaters, for the skaters and its drive is to play and progress the sport of Roller Derby, both at home and right across South Africa.
Roller Derby is a full-contact sport, played by adults (over 18 years) on quad roller skates and is the fastest-growing women's sport in the world with over 1200 leagues internationally.
Address: 64 Eastwood St, Turffontein, Johannesburg
Times: Wed 7pm to 9pm | Sat 10am to 3pm
Email: info@goldencityrollers.com
Website: goldencityrollers.com
Facebook: @goldencityrollers
Instagram: @goldencityrollers
Twitter: @goldencityRDL