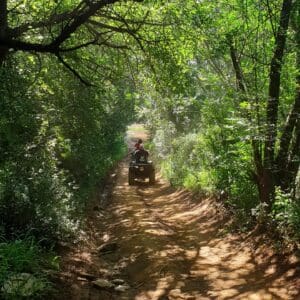 The Hollybrooke Adventure Farm is here to cater for every thrill and offers accommodation too.
No more than a 45-minute drive from Pretoria and Johannesburg's northern suburbs, these space hosts events, functions and family fun days for teams, colleagues, families and friends. Take an unforgettable and adrenaline-fueled quadbike trail, zoom through the air on their famous Orango-Tango Zipline, take a riverside ride on the Hollybrooke Adventure Farm's beautiful horses, or just chill out in the farm Coffee Shoppe or the river cottage chalets.
Activities include quad biking, horse riding, ziplines, hiking, clay pigeon shooting, airsoft and a day spa.
Address: Plot 10, Remhoogte Road, Skeerpoort, Hartebeespoort, Gauteng
Times: Mon to Sun from 7.30am to 5pm
Tel: 082 552 1285
Email: info@hollybrooke.co.za
Website: www.hollybrooke.co.za
Facebook: @hollybrookefarms
Instagram: @hollybrookeadventurefarm