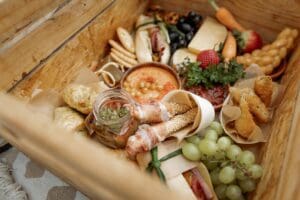 Ground, located on the Cronjé family farm near the Cradle of Humankind, offers hikes, picnics, the Harvest Experience, bush adventures or as an event venue.
Hikes
Trails that vary in distance between 3 – 6 km are available around the farm, including a child and pram friendly route. Please note that these are not guided but there is a map viewable upon arrival.
Walking Trail Option One:
Includes hike only, R60 pp with children U5 free. Wed – Fri from 7am and Sat – Sun from 8am
Walking Trail Option Two
Includes hike and breakfast (takeaway gourmet breakfast roll and drink), R130 pp. Wed – Fri from 8am and Sat – Sun from 7am
Friday Feels:
Includes hike, a gourmet burger, chips and a beer at R170 pp. Fri between 8am and 3pm
Ground Picnics
Vineyard/Upscale Picnics
Price includes table and chair set-up, crockery, cutlery,glassware, white Caribbean umbrella (1x Umbrella per table), and countryside table decor at R130 pp
Ground Picnic Experience
Includes sharing picnic baskets of choice, cane chairs, cushions for chairs, floor blankets, throws, floor cushions, low lying wooden table , long wooden serving boards, 10 side plates, flowers for table, set-up, styling and breakdown at R600 per person
Kids Menu
R60 per child
The Groovy Greek
R540 and feeds two people
Classic Cheese Box
R530 and feeds two people
The Harvest Experience
A bespoke curated experience for those that enjoy delicious food and quality time with loved ones surrounded by the simple pleasures in life, includes welcome drinks and a harvest table menu at R700 pp.
La Dolci Vita Experience
Taking visitors to Tuscany, Ground offers them a beautifully curated Italian style experience in the new white open-air studio at R1200 pp.
The Bush Experience
A beautiful safari styled experience in one of the Bush enclosed areas or Wattle Forest at R985 pp.
The Ground Cafe
A multi-purpose venue with indoor and veranda spaces, open Wed – Sun from 8am to 3pm
Address: 19 Driefontein Rd, Muldersdrift, Johannesburg
Tel: 063 296 2274
Email: Weddings and Events: Info@projectground.co.za | Hikes and Picnics: events@projectground.co.za
Website: www.groundthevenue.com
Facebook: @GroundTheVenue
Instagram: @ground_the_venue