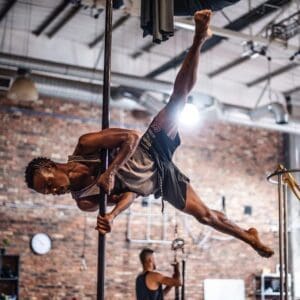 Every level of experience is welcome at the Cirk for their Pole Classes, taking place every week at this Randburg-based spot.
Beginner classes take place with aerialist Claudia Moruzzi on Monday and Tuesday nights and with Niky G on Saturdays, while intermediate lessons take place on Monday and Thursday with Kirsty Becker. For those who are experienced in the art, various teachers take advanced classes on Tuesdays and Fridays as well.
Please email or message the Cirk on social media to book a space.
Venue: The Cirk, Fairland Walk Shopping Centre Shop 29, Cnr Beyers Naudé Dr and Willson St, Fairland, Johannesburg
Time: Beginners Mon, Thurs and Sat 7pm to 8pm | Intermediate Mon and Thurs 6pm to 7pm | Advanced Tues and Fri
Cost: Various
Tel: 072 034 4408
Email: info@cirk.co.za
Website: cirk.co.za
Facebook: @thecirk | Pole Classes
Instagram: @the_cirk | Pole Classes