With winter on our doorstep, it's vital that we ensure our homes are comfy and cosy before inviting our guests in from the cold. There are several bedroom trends that can lead to happier homes and believe it or not, even wellness. Several studies have suggested that décor can add to one's happiness and alleviate, but not cure, anxiety and depression. We've partnered with Dial a Bed to look at trends and ideas to convert your bedroom into a sanctuary this winter.

GRANDMILLENNIAL
A short yet concise description for this beloved style would be granny-chic and millennial modernism combined, or in layman's terms, 'sweet old cat lady married to the quintessential hipster'.
The furniture for grand-millennial is primarily focused on dark woods and celebrated antiques that pair well with brass and crystal. These are usually high-end, quality millwork, and fancy fabric pieces. Envision old trunks, cabinets, dressers and wardrobes, much like the kind that would allow you to embark on adventures in Narnia. These rich hardwoods would then be complemented with soft seating furniture and beds rounded off with skirtings and floral or patterned prints.
The colour palette tends to be feminine and traditional. So, you're looking at pastel colours such as baby blue and soft pink, with floral or patterned wallpaper, decorated with needlework or embroidery art pieces. Often, you'll find animal prints or fur pieces that would accompany this palette.

BOHO
Boho has been a massive trend for a while because it provokes the feeling that we share congruence with nature and art.
This is a decorating style that is very rich in textures. The majority of your miscellaneous items will be stone, leather, knitted, or woven items. Basically, anything that grants that cosy feeling. Macrame and an abundance of plants are essential.
When we look at Boho furniture pieces, it tends to be low-level and light in colour, to accompany the relaxed and unconventional ambience. Bedside tables topped with vases and souvenirs. Items such as Moroccan poofs or rugs, futons and low-level seats are all in vibrant and light-hearted colours or patterns with rich textures.
This is a busy and engaging decorative style, based on the collection of trinkets from your travels and experiences. However, it is vital that you leave a neutral space for your eyes to rest, to warrant that you don't end up feeling claustrophobic. These are collections, not clutter.

MATTRESSES AND BEDS
Our focal point of the bedroom is always the bed itself. And, whether it's the end of a long day's work or the start of a lazy lay-in morning, both the comfort and support of your bed are vital.
Most people aren't aware that their body types are pertinent factors to Goldilocks' comfortability endeavour. When a person lies down, the weight distribution on the spine is dispersed differently. Therefore, it is imperative that the spine is supported in suitable locations with the right mattress.
Dial a Bed is home to a massive collection of beds and mattresses to test and shop. Softer mattresses like The Sealy Strato may give more comfort and plush for you to sink into. A medium mattress – not too hard, nor too soft – mainly focuses on the support of the shoulders and hips. A perfect example of this would be, The Forty Winks Sleepfit Medium Mattress.
And firmer mattresses like The Dunlopillo Excel, will be the prime example of a well-rounded weight distributing hard mattress. For more details on your body types and mattress needs, click here.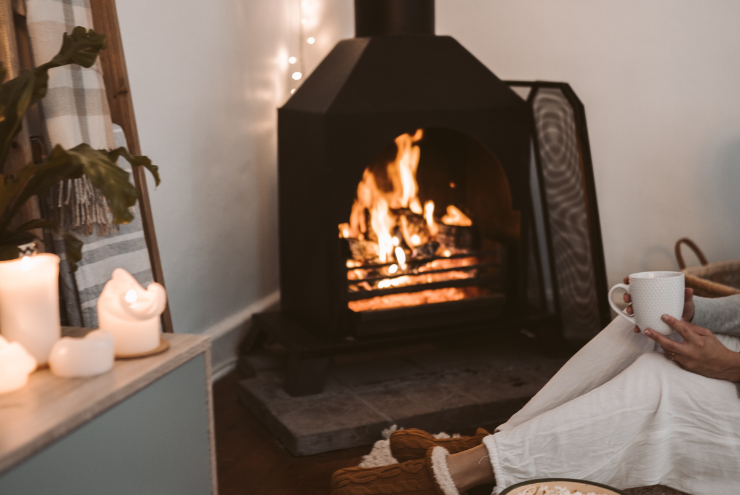 HEATING
Cosiness is one of the most important elements of a happy home. Whether you cocoon yourself in comforters and blankets or have a roaring fire crisping away in the corner of your house whilst you sip on gluhwein, you want to be prepared for whatever this winter has in store.
Because the Boho style uses layers of rugs and candles, it's easy to accumulate and keep heat. With all the extra cushions, woven blankets and throws lying around, you can easily have an outstretched arm grab a comfy piece to wrap yourself in or around. That being said, Grandmillennial will basically have the same application. A cosy knitted blanket or throw will suffice.
The Minimalism decor style is based on Scandinavian housing, however, not everyone has a fancy fireplace nestled in a beautiful wooden house. So, we would suggest looking at a simple styled comforter or duvet that you can use on your couch or even your bed.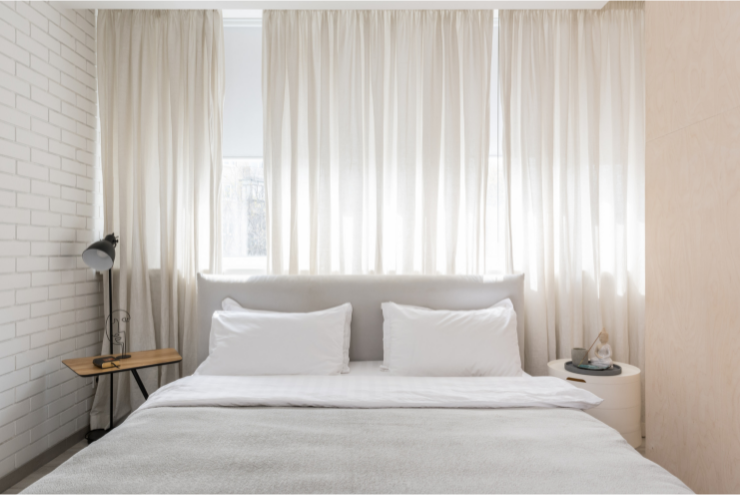 MINIMALISM
First thing's first, when you redecorate to a minimalistic decorative style, please be sure to donate or give to charity. Do not simply throw items into the trash.
Minimalism is fundamentally having fewer items with practicality in mind. It's simple, sparse and uncluttered, with vast wall- and floor space.
Contradicting Boho, the mentality of minimalism is that your likability of individual items will improve due to their functionality and prominence.
The furniture in minimalism tends to be wooden or white objects, with throw blankets or pillows made from natural fabrics to soften the hard furniture. These items are generally elevated pieces to increase light flow. An assortment of old and new items is perfectly fine because these are based on comfort and enrichment of your life. So, a status symbol is not supposed to be a deciding factor.
The colour palette is predominantly white with natural accents. These are normally black, grey, and soft colours with pale woods or metallics. Subdued artworks such as moody landscape photography, drawings, or abstract art are ideal. Because they're not busy, they can be large in print and won't feel like clutter. Remember, tidiness is key.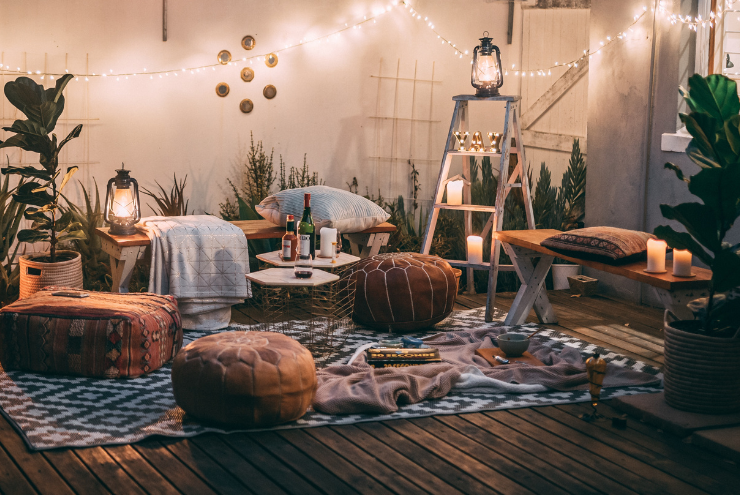 MOOD LIGHTING
Light temperatures can affect our moods and circadian rhythms. Therefore, it is vital that you avoid insomnia or low mood by choosing the right light sources and positions. Generally, you would want warm light regardless of your décor style.
In the case of Minimalism, natural light is preferable, hence the elevated furniture, and open floor and wall space to assist light circulation. However, warm yellow lights will suffice.
Boho style tends to have a variety of light sources such as candles, string lights, lanterns, and woven – pendants or shades for ceiling lights and lamps.
For Grandmillennial, lamps usually have pleated or floral shades with solid ceramic bases. Otherwise, brass and crystal complement well in this style.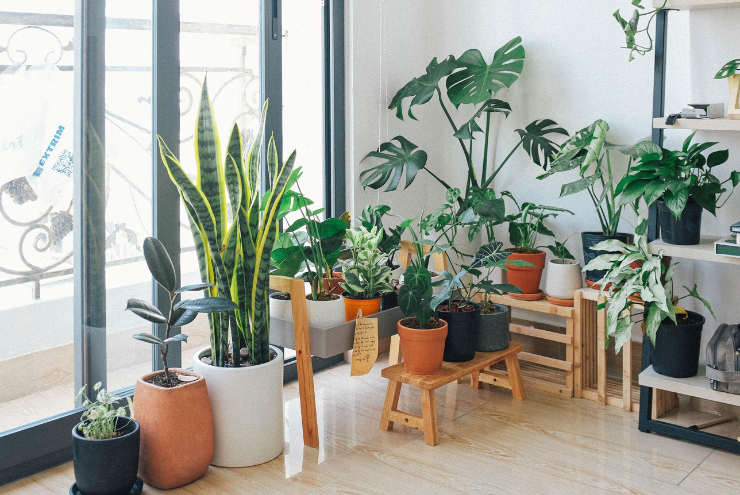 PLANTS
Plants are essential to any sort of décor you might have in mind. Apart from the obvious, oxygen, they also add serenity to a room and can help with stress. Some studies have found that the concept of looking after a living organism adds a sense of purpose, which may help overcome sadness.
For Boho, plants are a necessity. So, the more the merrier. Cacti, succulents and monstera plants with numerous planters and hangers all over the place make for the best indoor jungle.
With Minimalism you shouldn't overdo it. Limit yourself to 4 plants in a room. So, keep it small and maybe use one big plant as a focal point.
Grandmillennial doesn't really require specific plant types, however, wicker and bamboo planters would go well with the theme.