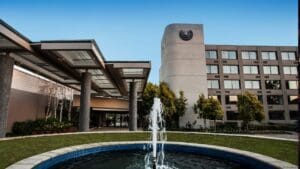 Located in Vanderbijlpark, Johannesburg, the Riverside Sun is a Southern Sun hotel with 169 rooms available for visitors to stay in.
Every room comes with an en-suite bathroom, free uncapped WiFi, DStv channels available on the TV and breakfast included in the rates. The hotel has landscaped gardens, an outdoor pool, the Liquid Lounge river boat and both a restaurant and bar on site.
Riverside Sun is also an event venue for hire for events and gatherings.
Address: Cnr Wenning and Emfuleni Dr, Vanderbijlpark, Johannesburg
Tel: 016 982 7300
Email: riversidesun.reservations@southernsun.com
Website: www.southernsun.com
Facebook: @SouthernSunHotels
Instagram: @southernsunhotels