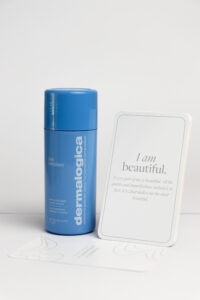 Dermalogica is once again making waves with its brand new Daily Milkfoliant, a gentle plant-based exfoliator that is safe enough for regular use.
The powder exfoliant comes packed with oat, coconut, and other botanicals rich in Alpha Hydroxy Acids (AHAs) and Beta Hydroxy Acids (BHAs) making it fully vegan.
A splash of water transforms the powder into a creamy lather that removes dead skin cells and dullness for a softer, more even tone and texture. 90% of consumers noticed a significant degree of smoothness after just one use.
Dermalogica Daily Milkfoliant comes in a convenient 13g bottle that is made from 50% recycled plastic.
And to celebrate the new product, Dermalogica partnered with Must Be Nice to offer a limited amount of complimentary affirmation cards inspired by the Daily Milkfoliant. The offer is only valid for online orders via Dermalogica.
Where to get it: Find it online or at authorised Dermalogica spas, skin centers, Sorbet, Arc, and selected Woolworths stores. Starting price from R299
Tel: 011 268 0018
Email: online@dermalogica.co.za
Website: dermalogica.co.za
Facebook: @dermalogicasa
Instagram: @dermalogicasa