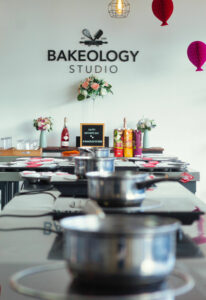 The Bakeology Studio in Birnam hosts hands-on classes for both children and adults who want to learn to bake, decorate cakes and other culinary skills.
Classes are designed to impart to participants the skills and knowledge of baking and pastry as well as the practical experience necessary to sharpen their skills. Available both full-time and part-time, courses include expert guidance from a chef who teaches expert tips and techniques.
The studio offers baking courses, kids' courses, workshops and special events for the opportunity to explore everything confectionary.
Address: Upper Level of 102 Corlett, Corlett Dr, Birnam, Johannesburg
Times: Monday to Friday 8am to 5pm | Saturday to Sunday 9am to 3pm
Tel: 079 451 2516
Email: info@bakeologystudio.com
Website: www.bakeologystudio.com
Facebook: @Bakeologystudio
Instagram: @bakeology.studio.jhb | @bakeology.studio.za