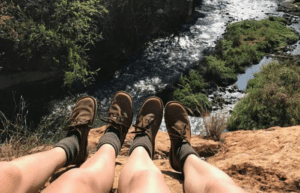 The Hennops Hiking Trail is easily accessible from both Johannesburg and Pretoria and offers a beautiful hiking experience for any level.
Three trails – the Dassie Trail which is 2km long, the Zebra Trail which is 5km long and the Krokodilberg Trail which is 10km long – start at the Hadeda Camp and travel along the Hennops River before taking hikers into the surrounding mountains.
At the river crossings, visitors travel over a suspension bridge and a cable. There are also historical landmarks along the trail, an underground cave and what remains of old dolomite mines.
Picnic spots and accommodation are also available onsite.
Address: Hennops, R511, Pretoria, Gauteng
Times: Mon to Fri from 7am to 1pm | Sat and Sun from 6am to 1pm
Tel: 082 825 9205
Email: info@hennops.co.za
Website: www.hennopstrails.co.za
Facebook: @hennopshiking
Instagram: @hennops_hiking_trail