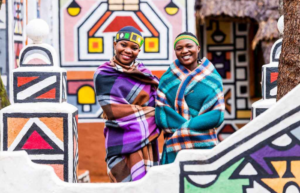 Lesedi Cultural Village, located in the Cradle of Humankind, gives visitors an up-close experience of the cultures and traditions of Africa.
Inside the village are five traditional homesteads inhabited by Zulu, Xhosa, Pedi, Basotho and Ndebele groups who live according to tribal folklore and traditions. Aside from their cultural tour and dance show, Lesedi Cultural Village offers conference and event facilities, accommodation for visitors, traditional African dining and is located in the Magaliesberg with plenty of activities in the surrounds to choose from.
The onsite Nyama Choma Restaurant is divided into three venues for east, south and north African cuisine and offers a taste of the exotic such as crocodile or ostrich. This village in the north of Johannesburg offers its visitors a taste of African hospitality.
Address: Lesedi Cultural Village, R512, Lanseria, Johannesburg
Tel: 012 205 1395
Email: cro@aha.co.za
Website: www.aha.co.za
Facebook: @ahalesedi
Instagram: @ahalesedi