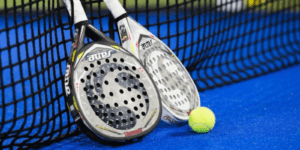 Padel Tennis – one of the world's fastest-growing sports – can now be played at the Wanderers Club in Illovo with the construction of six courts at the club.
Although the popularity of this game is on the rise, there are only four venues in South Africa that have Padel courts available. The Wanderers Club in Illovo, therefore, decided to construct a number of courts for the public to use to play the sport.
Padel is suitable for anyone over the age of seven and is similar to tennis except that the net is lower, the court is smaller, there are no double lanes and some of the rules are closer to squash.
Established over 100 years ago, the Wanderers Club is a top sporting club and conferencing venue with over 13 sport sections to choose from.
Address: The Wanderers Club, 21 North St and Rudd Dr, Illovo, Johannesburg
Times: Mon from 6am to 5pm | Tues to Fri 6am to 8pm | Sat from 6am to 10pm | Sun from 6am to 8pm
Tel: 083 391 1115
Email: contactus@wanderersclub.co.za
Website: www.thewanderersclub.co.za
Facebook: @wanderersgolfclub
Instagram: @wanderersgolfshop