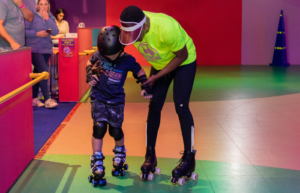 Rollercade is the biggest Roller-skating Family Rink in Menlyn Park. They provide a safe and friendly environment for the entire family to enjoy roller-skating or just vibe to the music.
Sit back & relax at their Rollercade café for a snack or refreshment. There are dedicated party areas and cater for company functions. Booking is required to join one of their fun filled sessions. Roller-skating keeps guests on their feet and having fun.
Bookings are essential to reserve a shoe size.
Tables & chairs are available for booking, guests may bring their own food and cold drinks if a area is booked. Enjoy a birthday party or event, by emailing Rollercade at events@rollercadepretoria.co.za to book.
Option 1 – R3 010
10 Skaters | 4 Non Skaters | VIP area | 1 Marshall
Option 2 – R4 200
15 Skaters | 5 Non Skaters | VIP area | 2 Marshalls
Option 3 – R7 250
25 Skaters | 10 Non Skaters | VIP area | 3 Marshalls
Full Venue Hire – R20 000
Max 100 people
2 Hours | 6 Marshalls
Monday
10am – 12pm (Closed for maintenance)
Session 1: 1pm – 3pm
Session 2: 4pm – 6pm
Tuesday – Thursday
Session 1: 10am – 12pm
Session 2: 1pm – 3pm
Session 3: 4pm – 6pm
Friday & Saturday
Session 1: 10am – 12pm
Session 2: 1pm – 3pm
Session 3: 4pm – 6pm
Session 4(16+ only): 7pm – 9pm
Sunday
Session 1: 10am – 12pm
Session 2: 1pm – 3pm
Session 3: 4pm – 6pm
Venue: Menlyn Park Shopping Centre Level 5, Entrance No. 14 Atterbury Road & Lois Ave, Menlyn, Pretoria
Cost: R200 2 hour session includes rental of skates and safety gear | R100 own skates *No metal wheels allowed | R40 attendance fee for spectators
Tel: 064 880 9925
Email: info@rollercadepretoria.co.za
Website: www.rollercadepretoria.co.za
Facebook: @rollercademp 
Instagram: @rollercadepretoria