After a lump sum of work and a long year's worth to show for it, no one simply wants a pat on the back completed with an "attaboy" or "attagirl". Well, yes, money is a nice incentive, but sometimes it's better to get out and celebrate the achievements as a team. That is why we constructed a list of some of the best venues and activities for year-end team building that will guarantee the most fun and inclusive outcome.
Have we missed any of your favourite spots? Please let us know in the comments below or email editor@whatsoninjoburg.com
The Gallivanting Goose utilises interactive and engaging games where everyone participates, has fun, uses their grey matter, and simultaneously gets out and about while soaking up interesting features of the city .
The Gallivanting Goose's unique mobile scavenger hunts put the wits of patrons in a friendly and entertaining competition, whilst experiencing the local historical sights. The games are played via smartphones provided by Gallivanting Goose. Then, all the activities are tracked in real-time, so you can always see what your opponents are up to.
The tasks take participants on a whirlwind adventure of their destination of choice. Participants need to get creative and use teamwork, communication, and strategy to climb to the top of the leaderboard.
You can also customise the game to accommodate induction training for new staff members or the launch of a new product in a fun and exciting new way.
Where: Johannesburg
When: Mon – Fri: 9am – 5pm
Website: thegg.co.za | Email: talktome@thegg.co.za | Tel: 082 468 3052
Facebook: @TheGallivantingGoose | Instagram: @the_gallivanting_goose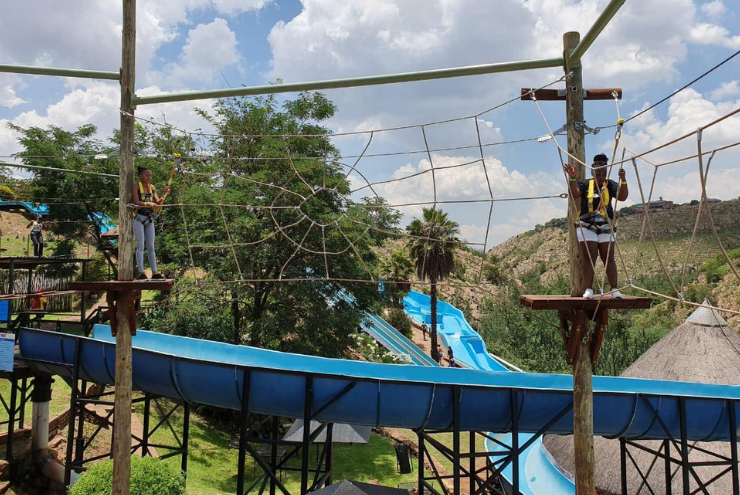 The urge to climb feels so natural, and Rope Park feeds this natural urge. Located in Pines Resort, the park is made from hundreds of metres of natural fibre ropes that are connected by wooden platforms. The full course is 350m and includes 26 different obstacles between the rope bridges that you'll need to balance on – with safety harnesses fastened by trained marshalls – before reaching one of the six ziplines. Booking is essential, as walk-ins are not allowed due to the park being in Pines Resort.
If you're feeling more adventurous, make a day of it and stay for the night session as you enjoy a round of the neon night climbing. Inspired by the neon signs and billboards of the 1950s and 60s, Rope Park has systematically fitted their course with lights stretching across the entirety of the rope to deliver a unique climbing experience.
Chimp & Zee Rope Park is ideal for a group outing to let off some steam and celebrate the year's end.
Where: 2 Ivan Smuts Avenue, Silverfield, Krugersdorp
When: Sat – Sun: 9am – 5pm 
Website: ropepark.co.za | Email: info@ropepark.co.za | Tel: 011 568 1626
Facebook: @ropeparksa | Instagram: @rope_adventure_park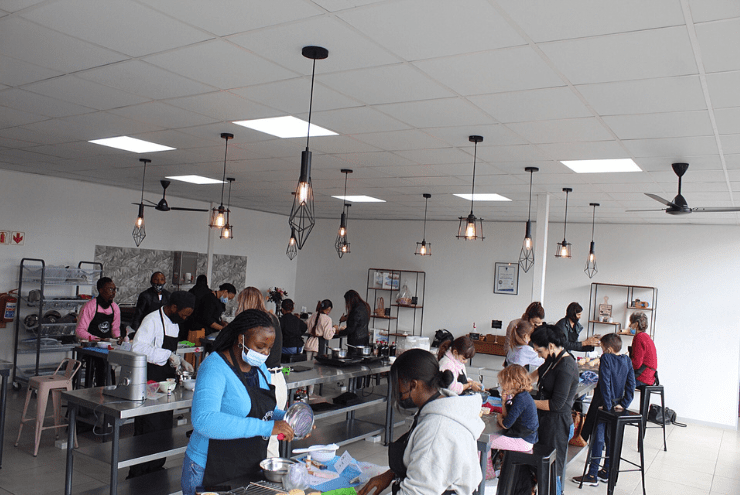 For those who warm toward sifting flour and preheating ovens, this is the institute for you. Bakeology Studio offers 11 different baking courses from an expert icing course to a South African Chef's Academy (SACA) accredited bakery confectioner's course. Fees are all-inclusive of ingredients used, as well as the costs involved in teaching and learning. The studio also stocks baking essentials like wire racks, piping nozzles and baking moulds. So, just bring your favourite smile and can-do attitude.
The Baking essentials and beginner's course is a good starting point for novice bakers as no previous experience is required and takes place on a single day for five hours. Which to us sounds like the perfect group outing where co-workers get to experience and learn something new.
Maybe double check whether or not food fights are allowed before the office clown gets in too much trouble.
Where:102 Corlett, Corlett Dr, Birnam
When: Mon – Fri: 8am – 5pm | Sat: 8:30am – 1pm
Website: bakeologystudio.com | Email: info@bakeologystudio.com | Tel: 079 451 2516
Facebook: @Bakeology Studio | Instagram: @bakeology.stuio.jhb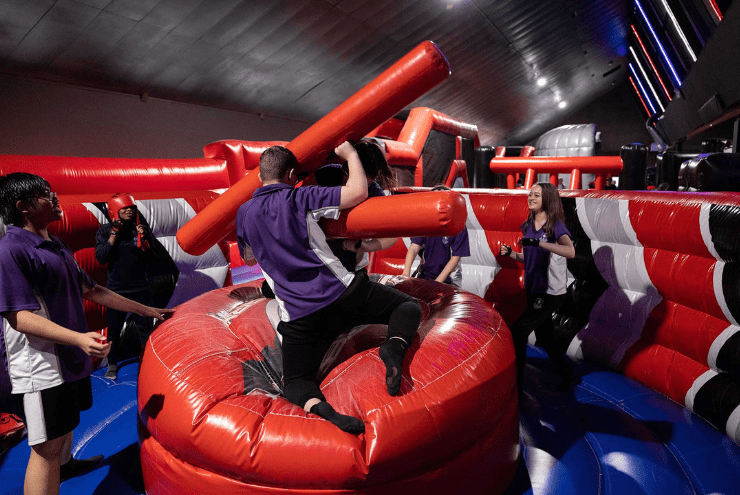 Total Ninja is a compilation of fantastically fun obstacle courses with large inflatables inspired by the global phenomenon TV series, Ninja Warrior. The indoor park will be located in Edenvale this coming November 2022, and we can not be more excited about it.
It's a supervised activity and fitness playground where visitors can climb, balance, jump and swing across different obstacles using and developing their Ninja skills. Essentially, this venue is ideal for unleashing your inner Peter Pan and a fun way to get fit unintentionally.
An added bonus of Total Ninja is the fact that they have three different courses, mini-, total-, and master ninja. This means that you don't have to stress about accidentally knocking over little kids as you dominate the obstacle courses.
Where: 1 Stoneridge Dr, Greenstone Park, Edenvale
When: Mon – Fri: 10am – 9pm | Sat – Sun: 9am – 9pm
Website: totalninja.co.za | Email: stoneridge@totalninja.co.za
Facebook: @totalninjabrp | Instagram: @totalninjabrp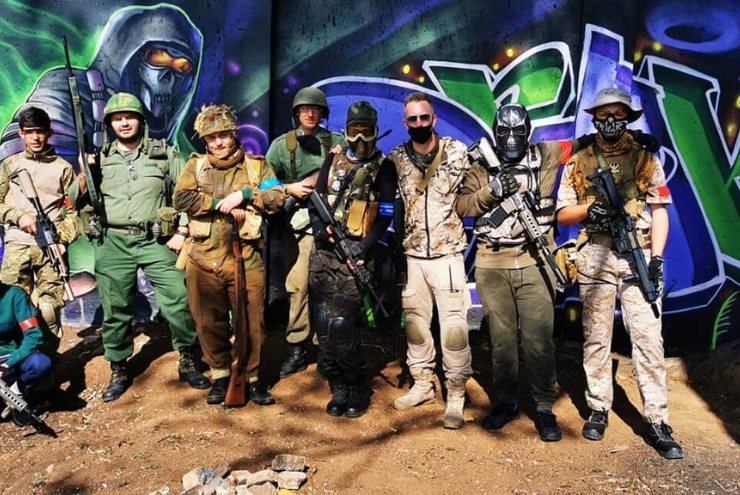 Situated in Linksfield, Urban Airsoft is easily accessible and surrounded by beauty. With a massive field, this premises is the perfect spot put your skills and resilience to the test.
What is Urban Airsoft you ask? Well, in short, it is a combat sport where players shoot tiny plastic BBs (Ball Bullets) at each other and call out their hits as loudly as possible. Unlike paintball games, there are no markings, so the game requires honesty. This is why we thought it to be a great show of character regarding team-building activities.
The venue hosts games on the hour every hour. However, for team-building events, they have optional full-day games and additional packages available, such as tactical Airsoft shooting courses, obstacle courses, drill sergeants, and more.
Urban Airsoft also boasts braai facilities on site. So, your team and work colleagues can end off a rootin' tootin' showdown with a small party to boot.
Where: 110 Linksfield Rd cnr Club St, Linksfield
When: Mon – Sun: 9am – 5pm
Website: urbanairsoft.co.za | Email: info@urbanairsoft.co.za | Tel: 084 244 4345
Facebook: @Urban Airsoft SA | Instagram: @urbanairsoftsa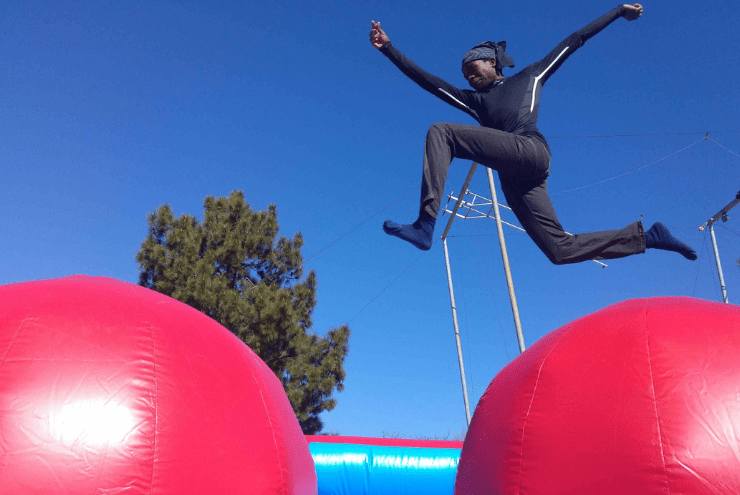 Jozi X is an action-adventure centre where all activities require physical effort, skills development and hand/eye coordination. It's the ideal combination of fun and fitness.
Some of the activities include Bubble Soccer, Nerf Wars, 120m Slip & Slide, 9m high 4-sided climbing wall, Zorb Ball Run, and making your way through the Inflatable Park's course. In addition to these activities, there are specialised features such as The Big Air Kushion Jump for non-motorised activities with BMX, Skateboards, Rollerblades and Mountain Boarding on the beginner slopes.
They also have a unique range of team-building activities to pick from. However, they offer the option of creating and arranging a day full of set activities for your company in one package. These range from their skilled course to their intimate speed activities. See here for more on team building specifics.
Where: Main Rd & Sloane St, Bryanston
When: Wed – Sun: 10am – 5pm
Website: jozix.co.za | Email: info@jozix.co.za | Tel: 082 456 2358
Facebook: @JoziX.AdventureCentre | Instagram: @jozix_adventurecentre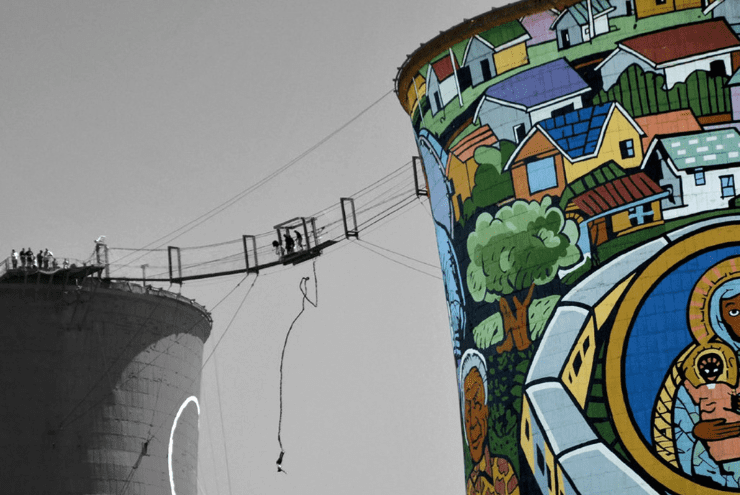 These decommissioned coal-fired power station towers originally belonged to the Orlando Power Station. However, after serving Johannesburg for 50 years, it is now the surface of South Africa's largest mural and the site of the world's first power swing between two cooling towers.
Famous for the Bungee Jump or the SCAD free fall, Soweto Towers will refresh anyone's view on life as guests are harnessed by a guide and then lifted in an open-air elevator to a height of 97m. There, a floating staircase awaits to allow guests to make their way passed the remaining three metres to the 100m viewing deck flaunting a 360º view of Soweto and Jozi. Then, the guests have one of two choices. They can either bungee jump from the suspension bridge or SCAD free fall from the world's highest free fall into a safety net.
The Soweto Towers also offer base jumping and climbing activities for guests that prefer something different. But luckily, for the visitors that choose to remain closer to the solidarity of the ground, there is an option to play a game of paintball.
Where: Cnr Chris Hani Rd. & Dynamo St, Soweto
When: Thu – Sun: 10am – 5pm
Email: info@sowetotowers.co.za | Tel: 071 674 4343
Facebook: @SowetoTowers | Instagram: @sowetotowers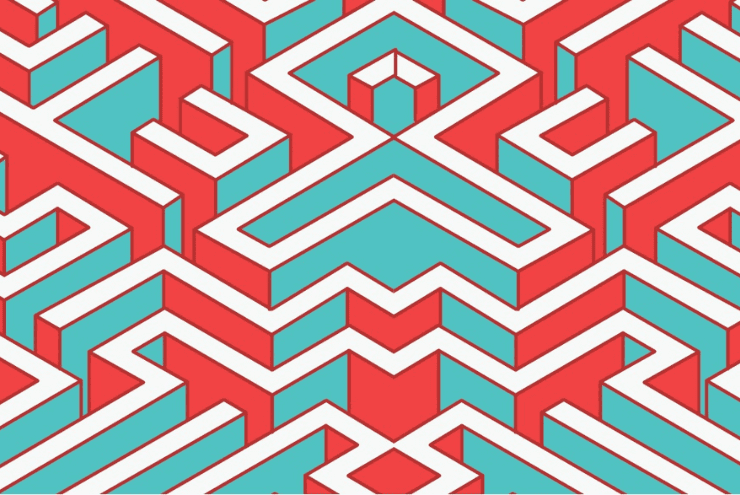 Hashtag Escape is an escape room adventure game based in Joburg. Most of you have seen at least one of the many sequels of the film SAW, and we would like to console you by informing you that it is not anything as gruesome or twisted as the movies. It is a strategic, fun, and challenging puzzle room to make people work together and think outside the box.
Participants are locked in a mysterious room with one hour to work as a team, discover the hidden secrets, solve the puzzles, and then escape the room. All the rooms and puzzles are hand-crafted by a team of local puzzle masters. This ensures they provide a unique, fun, and challenging experience for all types of guests.
There are four different rooms available, and each room varies in difficulty. The rooms are as follows;
– Hack Out 9.5/10
– Rebel 8.5/10
– Red Moon 7/10
– Closure 6/10
Where: 39 Grant Avenue, Norwood
When: Mon – Sat: 10am – 9pm | Sun: 10am – 7pm
Website: hashtagescape.co.za | Email: info@hashtagescape.co.za | Tel: 072 235 4982
Facebook: @HashtagEscape | Instagram: @hashtag_escape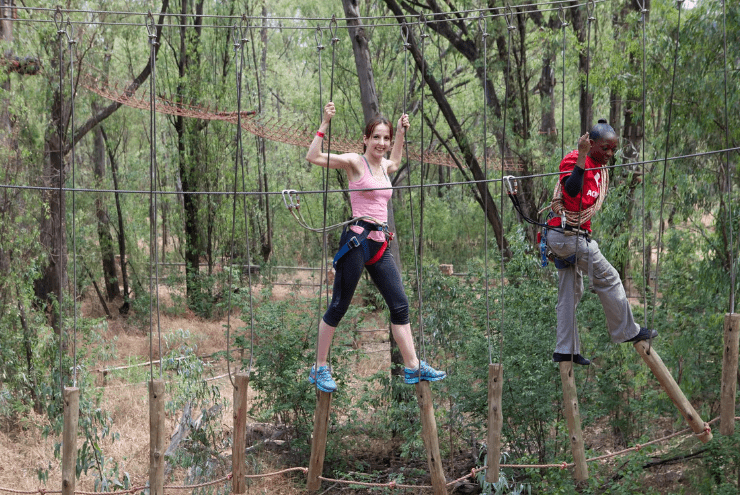 This award-winning adventure park needs no writer to gloat about its successes. The sheer fact that it opened shop in nine different locations is evidence enough. From as far and wide as the Garden Route to Garsfontein, Acrobranch has gained popularity among the adrenaline-seeking jungle climbers and tree-swinging sliders of today.
Acrobranch is the perfect team-building experience that will provide key benefits for your organisation and staff. Teams can show off their grit, guts and gumption as they embark on a journey of self-discovery while they move through daring challenges high above the trees of the Acrobranch Courses. A test of climbing ability, mobile ingenuity and courage will be illustrated as the company energises, motivates, inspires and rebuilds your work team.
Where: 27 Club St, Senderwood, Germiston
When: Wed – Sun: 9am – 5pm
Website: acrobranch.co.za | Email: bookings@acrobranch.co.za | Tel: 086 999 0369
Facebook: @Acrobranch | Instagram: @acrobranchza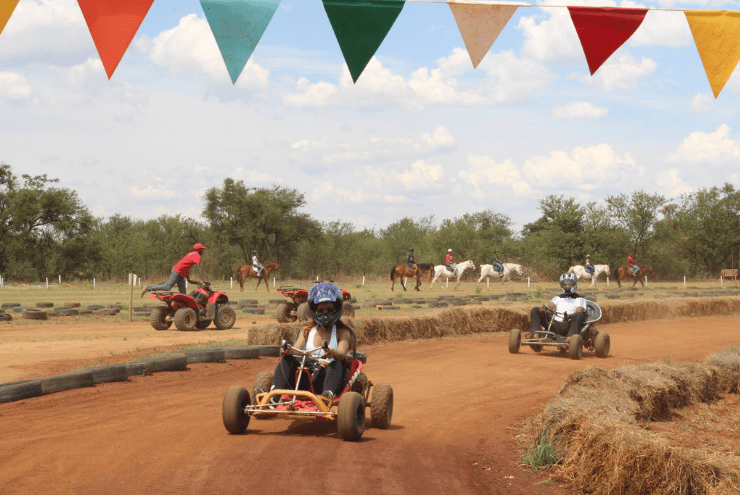 In the Hekpoort Valley at the foot of the Magaliesberg Mountains, you can find yourself surrounded by an eclectic range of exciting and enticing activities.
Saddle Creek Adventures is an adventure ranch that warrants the ideal opportunity to build team spirit or create the makings of an extraordinary adventurous function out in the wildlands of Gauteng.
Act out your best James Dean, Robin Hood or Steve McQueen at Saddle Creek Adventures. The variety of action-packed activities ranges from horse riding, go-kart racing, action archery, quad biking, and laser clay pigeon shooting, which is a better and more environmentally-friendly version of regular clay pigeon shooting.
The venue also has packages specifically designed for year-end functions and team-building activities. See here for more information on these year-end packages.
Where: Farm HH24 Hartebeesfontein Road, Hekpoort
When: Mon – Sat: 8:30am – 4:30 pm | Sun: 8:30am – 4pm
Website: saddlecreekadventures.co.za | Email: info@saddlecreekadventures.co.za | Tel: 079 467 9906
Facebook: @Saddlecreekadventures | Instagram: @saddle_creek_adventures