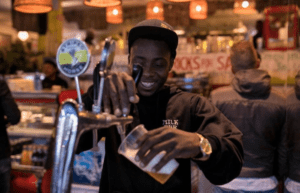 Milk Bar is a contemporary and African-inspired eatery located in Parkmore, Johannesburg that is open seven days a week.
Open from 7am all the way to 11pm, Milk Bar serves coffee, breakfast, lunch, after-work drinks and dinner from its location inside the George Lea Park (the Sandton Sports Club). As well as being an eatery, Milk bar can also be booked for private events and regularly plays host to quiz nights and live music events.
Milk Bar was founded by three friends – Tekalign, Manasse and Amina – in order to share their love of coffee with the public.
Address: George Lea Park, 11 Holt St W, Parkmore, Sandton, Johannesburg
Times: Mon to Sun from 7am to 11pm
Tel: 072 641 8977
Email: georgeleapark@milkbar.co.za
Website: milkbar.co.za
Facebook: @milkbarSA
Instagram: @milkbarsa