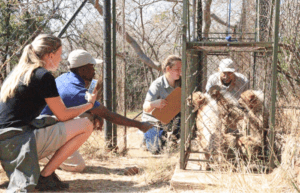 The Ann van Dyk Cheetah Centre, formerly known as the De Wildt Cheetah Research Centre, is located in Brits and is a conservation and rehabilitation centre for Cheetah and wild dogs.
The centre was founded in 1971 by van Dyk and offers two hour-long guided tours daily with a cheetah run (where visitors can see how fast a cheetah can move) and guided tours offered on selected days. During their stay, guests can get a glimpse of cheetah, King Cheetah, African wild dog, caracal and vultures among other animals.
In order to help raise funds for the centre, members of the public can also 'adopt' animals living at the centre – meerkats, honey badgers, vultures, caracals, wild dogs and cheetahs – financially to help support their care.
Address: Ann van Dyk Cheetah Centre, Rd no. 22, R513, Brits, Gauteng
Tel: 063 693 7403
Email: bookings@dewildt.co.za
Website: dewildt.co.za
Facebook: @dewildtcheetah
Instagram: @dewildt_cheetahcentre