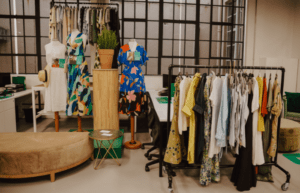 Cape Union Mart's newly-launched Green Thread Studio is a hub established to promote local production, be sustainable and create more jobs.
Its invention is all about growing production locally and will be the core hub of the Poetry, Old Khaki and KEEDO brands. Green Thread Studio allows designers and buyers to work side-by-side to develop more sustainable fabrics while removing the burden of couriering samples internationally by building a space for local talent. The studio also reduces the waste created by sampling with the upcycling of off-cuts.
In terms of job creation, this space employs 220 people in manufacturing and a further 33 in design, with the manufacturing side also utilising a training facility to train and upskill workers. To accommodate future growth and meet growing demand, machinists are multi-skilled and flexible.
Ultimately design-led, this studio's aim is to put in place a space where every element and evolution of product creation can happen locally.
Tel: 086 033 3329
Email: customer-service@capeunionmart.co.za
Website: www.capeunionmart.co.za
Facebook: @capeunionmart
Instagram: @capeunionmart