Joburgers love their burgers, and we wanted to make a short list to help our readers find the best burger joints in Johannesburg. We've all had our fair share of fast food takeaways and massive franchises, but what about the little guys that are big in flavour? From small venues to the ones that made a big success and became a local franchise, we wanted to make it a fair choice. So, ready your bib, and let's dig in.
Have we missed any of your favourite spots? Please let us know in the comments below or email editor@whatsoninjoburg.com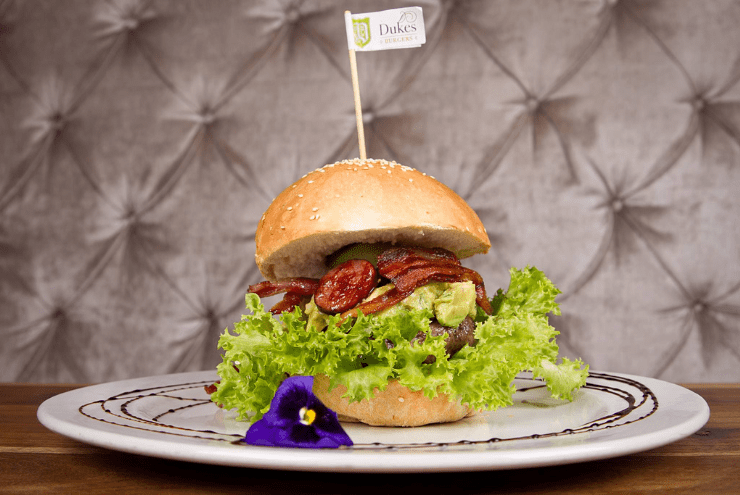 This fun burger joint opened its doors back in 2010 with the sole purpose of creating gourmet burgers for Joburg.
With their own homemade baked rolls and sauces, and daily-delivered fresh goods from local suppliers, the venue promises a meal nothing short of amazing. It is no wonder they hold the claim of being unrivalled.
With any growing company, they also evolve with its clientele. What we mean by this is that they cater to most dietary needs and keep their vegan and vegetarian section separate from the carnivorous section. Their wheat-free buns and skinny burgers (burgers without a bun) are prime examples of this. However, some of the food may contain traces of nuts. So, if any guests have special requirements, they can easily consult the chef and a compromise will be devised.
Where: 5a 7th St, Melville
When: Tue – Sat: 11:30am – 9:30pm | Sun: 11:30am – 8:30pm
Website: dukesburgers.co.za | Email: dukesburgersgreenside@gmail.com | Tel: 072 733 5966
Facebook: @dukesburgers | Instagram: @dukes_burgers_joburg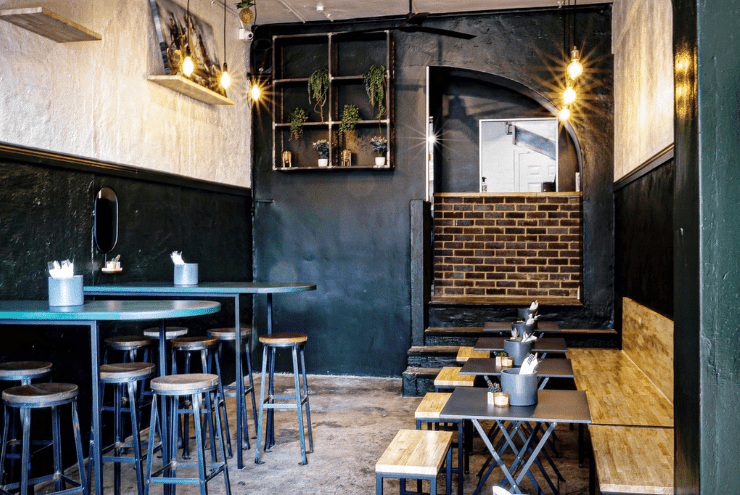 As the name cheekily suggests, this burger joint is all about being quirky and having fun. Working with the service model of food served quickly, menu design simplistic but fantastic, and creating an atmosphere of fun with light-hearted and cheerful staff, Buns Out Burgers takes the prize.
The company was started in 2019 by Tom Savage and Maps Maponyane, with the simple aim of delivering better hospitality experiences, and we can assure you they executed that goal spectacularly. Due to its success, Buns Out now has three stores. These stores can be found in Linden, Norwood, and Rosebank.
Voted as Bloomberg's Best Burger in South Africa for 2020, Buns Out Burgers continue to provide the best hand-crafted burgers with fresh and locally sourced produce.
Where: 32 7th St, Linden
When: Sun – Wed: 12pm – 8pm | Thu – Sat: 12pm – 9pm
Website: bunsoutburgers.com | Email: linden@bunsoutburgers.com | Tel: 074 434 1390
Facebook: @BunsOutBurgers | Instagram: @bunsoutburgers
This rustic and steampunk-themed venue provides that old-timey feel that we often need to escape current affairs.
Cut & Craft Bistro considers itself to make comfort food with a twist. However, we can tell that the secret ingredient is loving what they do. Using fresh and organically grown produce, they create dishes with a rustic flair that reminds guests of their grandmother's old recipes.
The burgers on offer at Cut & Craft Bistro all contain ground beef patties that were crafted and prepared on the day to ensure freshness. The main burger that locals and frequenters rave about is the bomb. We aren't saying the phrase "the bomb" in a sense of praise like cool kids do. The actual name of the burger is The Bomb. But as they say, there's no smoke without fire.
Where: 159 Queen St, Kensington
When: Mon – Sat: 7am – 9:3opm | Sun: 7am – 3pm
Website: cutcraftbistro.co.za | Email: info@cutcraftbistro.co.za | Tel: 011 615 0230
Facebook: @cutcraftbistro | Instagram: @cutcraftbistro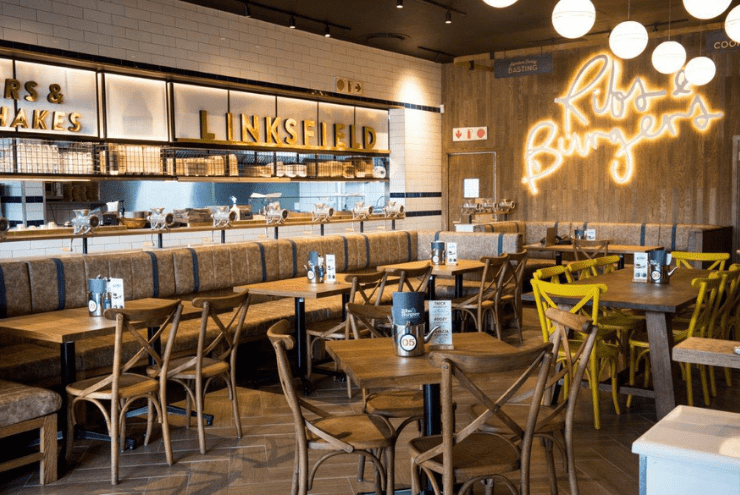 Ribs and Burgers is a venue that, simply put, is best known for its ribs and burgers. Eight hours of slow-cooked ribs and fresh succulent burgers can easily make their mark on any meat eater's favourite spots to eat.
The general atmosphere and appearance of the restaurant creates a cosy and welcoming feeling with its vintage furniture. Much like the kind of filmset-diner where the local butcher saved up enough money over the years to finally treat his local community to some decent, well-prepared, and natural hormone-free beef burgers.
Another great aspect of the Burgers and Ribs franchise is that they support local farmers and sponsor community groups. What's nicer than supporting a company that supports others y giving back to the world?
Where: Cnr of Huddle and Club St, Linksfield
When: Mon – Tue:11am – 9pm | Wed – Sun: 10am – 9pm
Website: ribsandburgers.com | Email: linksfield@ribsandburgers.co.za | Tel: 010 100 3027
Facebook: @ribsandburgersza | Instagram: @ribsandburgersza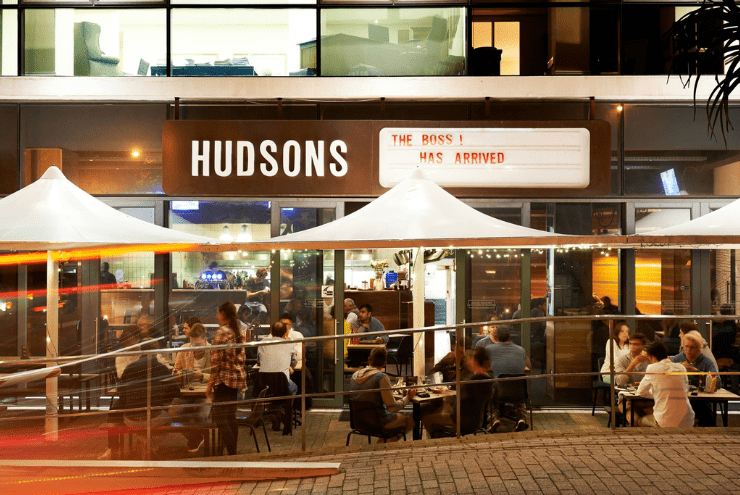 Hudsons is your quintessential American-inspired restaurant with a twist of contemporary in its design. They set out to give guests a welcoming experience and create a fast-paced service for patrons in need of casual yet gourmet meals. This is easily achieved by their modern yet nostalgic décor and attentive staff.
Established in Kloof street Cape Town, the owners, Ross and David, created a simple recipe with free-range beef, complemented by hand-selected ingredients to create the perfect taste. This is traditionally finished off with a classic-styled but massive in size milkshake.
The success of the restaurant speaks for itself when you look at the number of franchises they managed to open. These are Greenpoint (CPT), Claremont (CPT), Stellenbosch (CPT), Muizenberg (CPT), Bedfordview (JHB), Parkhurst (JHB) or Hazelwood (PTA).
Make your way to Hudsons, if not for the burgers, do it for the shakes.
Where: Cnr of 4th Ave and 14th St, Parkhurst
When: All week: 12pm – 11:30pm
Website: theburgerjoint.co.za | Email: parkhurst@theburgerjoint.co.za | Tel: 011 268 0713
Facebook: @HudsonsBurgers | Instagram: @hudsonsburgers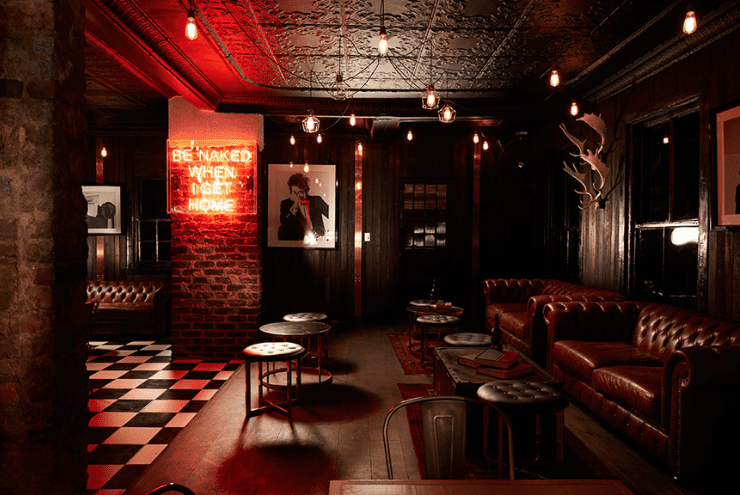 Known as a place to escape the trendy masses, this alternative, blues and jazz venue is ideal for the quirky outcasts with a love for dark 1920s-styled ambience.
With live music on weekends and an eclectic array of wines and whiskeys, it's no wonder this venue is a Melville favourite. However, we're here to talk about burgers and not their delicious drinks or the secret room behind the bookcase where people allegedly go to escape the annoying friend in the group.
The venue has its own signature Hell's Kitchen Burger (technically two – one beef and one chicken) which is complemented by their freshly baked on-site bread. Many Joburgers travel from the East-, West-, North-, and South-Rand to enjoy this burger.
Where: Shop 4, 7th St, Melville
When: Mon – Tue: 12pm – 9pm | Wed – Sun: 12pm – 11pm
Website: hellskitchen.co.za | Email: address | Tel: 079 980 9591
Facebook: @hellskichenmelville.co.za | Instagram: @hellskitchenmelville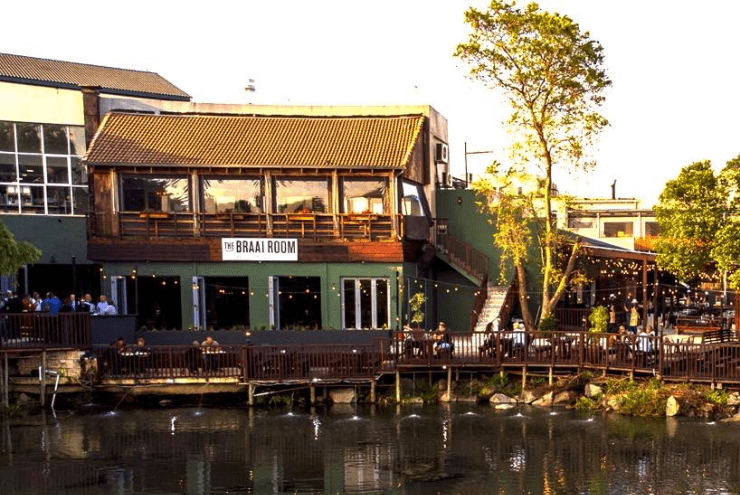 This beautiful venue is not only known for its awesome view of the Lonehill Dam and Lonehill Koppie, but for its burgers that entice visitors to salivate.
The meat they use for these burgers is from Country Meat Butchery. Which essentially means that the ingredients are farm-fresh, and cut and prepared by seasoned professionals. Among the delicious menu options awaits a famous Wagyu Beef Burger that most people tell their moms and friends about in long, wordy messages.
Apart from the lovely deck with a beautiful view, the venue also has a children's play area, indoor working stations, and a bar. This is why we recommend The Braai Room as a venue that suits most needs.
Where: 22 Lonehill Blvd, Lonehill
When: Sun – Mon: 8:30am – 8pm | Tue – Sat: 8:30am – 9pm
Website: braairoom.co.za | Email: lonehill@braairoom.co.za | Tel: 010 800 2919
Facebook: @thebraairoomcountrymeat | Instagram: @thebraairoom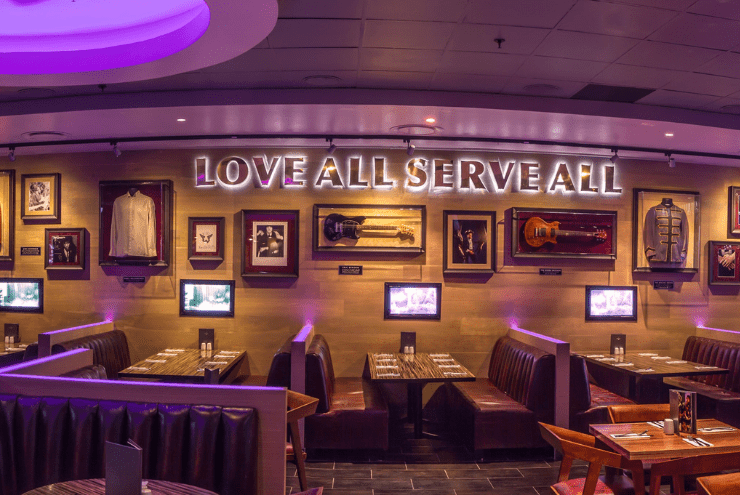 Located in the trendy and urban area of Nelson Mandela Square, Hard Rock Café is an American-styled restaurant and pub. Don't let the name fool you or scare you off. The venue doesn't play Hard Rock while you eat your meal and headbang to distorted guitar riffs.
Hard Rock Café serves delicious meals of all sorts, but we're still talking burgers. Guests can expect an array of handcrafted burgers made with 225g of blended premium-grade beef. These patties are then placed on delicious brioche buns and served with seasoned fries. There are also some vegetarian options for our plant-based readers.
In the European-styled square placed under a preferred African sun, Hard Rock Café is a perfect place to eat, drink, and unwind as you people watch or enjoy the décor that pays homage to Rock 'n Roll.
Where: 8 Maude St, Mandela Square, Sandton
When: Sun – Thu: 12pm – 12am | Fri – Sat: 12pm – 1am
Website: hardrockcafe.com | Email: info@hrcjohannesburg.com | Tel: 011 784 3144
Facebook: @hardrockcafejohannesburg | Instagram: @hardrockcafejohannesburg