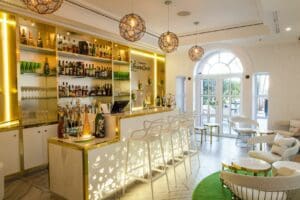 In honor of the 25th Birthday of the iconic 54 on Bath hotel, they are proud to announce the re-opening of The Lounge at 54, which provides an unparalleled sense of privacy and exclusivity, with luxury, style, and intuitive service.
The Lounge at 54 is the perfect place in Rosebank for intimate meetings, pre-dinner drinks, champagne catch-ups and evening whiskeys, complemented by a light meal menu selection.
The celebrations continue with the hotels World Champagne Day offer, available until Sunday 30 October. Guests are invited to share the magic of bubbles in the elegant Perrier-Jouët Champagne bar and garden as well as indulge in a bottle of Perrier-Jouët Champagne with a choice of a complementary light starter.
Venue: 54 Bath Avenue, Rosebank, Gauteng, South Africa
Tel: 011 344 8500
Email: 54onbath.reservations@southernsun.com
Website: www.southernsun.com
Facebook: @54onBath
Instagram: @54onbath_hotel