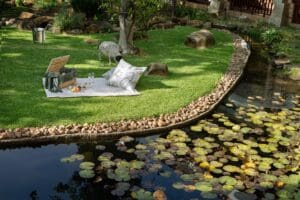 Premier Hotel Quartermain Sandton is hosting a laid-back picnic on their lawn area every Sunday.
The Picnic in the Park experience kicks off with a complimentary cocktail on arrival as you're led to a picnic setup next to the pond.
Dining-wise, expect classic picnic fare with a modern twist. The wicker basket comes packed with mini chicken pregos with cheese and aoli, fresh bakes, beef skewers, and a bottle of wine. A selection of homemade cakes, fruit skewers, and Ferrero Rocher chocolates make up the dessert offering.
The picnic runs from 12pm until 5pm with a live band on hand to set the mood with mellow tunes. Advance booking is essential.
Venue: Premier Hotel Quartermain Sandton , 60 W Rd S, Morningside, Johannesburg
Time: Every Sunday, from 12pm to 5pm
Cost: R480pp
Tel: 011 290 0900
Email: info@premierhotels.co.za
Website: premierhotels.co.za/hotels/gauteng/johannesburg/quatermain/
Facebook: @premierhotels
Instagram: @premierhotels