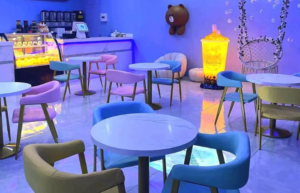 Bubble Boba has three locations around Gauteng and serves authentic Chinese bubble tea and delicate Asian desserts.
Bubble Boba has locations in the Jean Village Shopping Centre in Centurion, Rivonia and in Greenstone Hill. Available for purchase are items such as bubble tea – a tea that comes in a variety of flavours with tapioca balls inside – and Asian bakery items such as mochi.
This business also caters for birthday parties.
Address: Inside Wong Fong Sushi, Jean Village Shopping Centre, Centurion | 329 Rivonia Blvd, Rivonia, Johannesburg | inside Smack Pizza Co, Greenvalley Shopping Centre, Stoneridge Dr, Greenstone Hill, Johannesburg
Times: Mon to Thurs from 10.30am to 7pm | Fri and Sat from 10.30am to 8pm | Sun from 10.30am to 7pm
Facebook: @Bubbleboba.sa
Instagram: @bubbleboba.sa