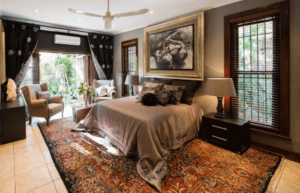 The Art Guesthouse is located in Hartbeespoort and offers an art-filled stay 40km from Pretoria and 60km from Johannesburg.
Owned by artist Elsa Cornelissen, this guesthouse features a range of artworks created by her throughout the venue including paintings which decorate the walls and a sculpture garden outdoors. These pieces are for sale to visitors for the most part.
The five available rooms – the Smokey Charcoal, the Cadmium Scarlet, the Italian Earth, Starry Nights and the Frida Kahlo are self-catering and airconditioned.
Cornelissen has been creating art for over 40 years.
Address: 27 Elizabeth St, Schoemansville, Hartbeespoort, Johannesburg
Tel: 021 762 1543
Email: elsacornelissen@gmail.com
Website: theartguesthouse.co.za
Facebook: The Art Guesthouse