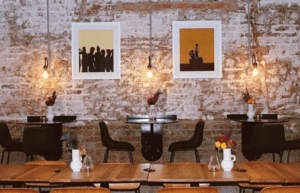 Acid Food and Wine Bar in Parktown North has an ever-changing menu that is designed to share.
The dynamic food offerings change regularly in order to match the wine that Acid is highlighting at the time, along with what fresh produce is available. Acid Food and Wine Bar is open five evenings a week and is an unconventional casual fine-dining experience.
The space is carefully curated and features a collection of artwork created by Nisha Merit, special Spotify playlists and regular music offerings from Friends on Deckz.
Acid Food and Wine Bar was co-founded by Chef Jes Doveton and wine expert Jemma Styer and was opened to the public in late 2022.
Address: 19 4th Ave, Parktown North, Johannesburg
Times: Tues and Wed 5pm to 9pm | Thurs to Sat 5pm to 10pm | Sun and Mon closed


Tel: 073 663 3946
Email: hello@acidthebar.com
Website: www.acidthebar.com
Facebook: Acid Food and Wine Bar
Instagram: @acid_thebar