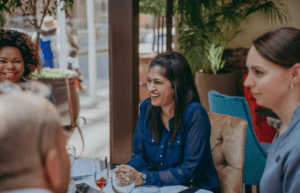 The Roar Bistro and Bar on Maude Street in Sandton is a tapas restaurant as well as a deli stop that is open daily.
With a Paris-inspired street-side setup, Roar serves breakfast, lunch, dinner and drinks and offers small plates of tapas or big plates of standard meals for diners. For those just passing through, the onsite deli serves coffee, pastries, patisseries, and handmade sandwiches to go.
The space is also available for large or small functions as well as private events in the venue's Cupola Suite.
Roar Bistro and Bar is owned by the Legacy Group and is decorated in teal, red and brass with a large graffiti lion on the wall and luxurious fabrics.
Address: 8 Maude St, Sandton Central, Johannesburg
Times: Mon to Sun from 6.30am to 10.30pm
Tel: 011 245 4845
Email: roar@roarbistroandbar.co.za
Website: roarbistroandbar.co.za
Facebook: @roarbistroandbar
Instagram: @roarbistroandbar