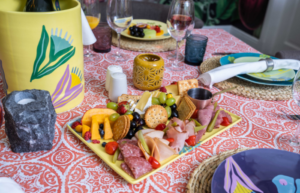 The Seven Colours Private Dining Room, located at the Fairlawns Boutique Hotel and Spa, is the perfect venue for intimate affairs.
Able to accommodate up to 12 guests, this private venue has a range of menu options created by Executive Chef Gareth Jordaan to suit every occasion. The room, designed by Michael Kewley, is fauna and flora-themed with carefully selected decor such as a specially selected and vibrant wallpaper.
In warmer weather, the French doors and windows open up to the hotel's gardens and swimming pool. Contact the hotel directly to find out more about the meal options and to plan that special event.
The Fairlawns Boutique Hotel and Spa is a five-star urban escape styled after a country hotel but located in the heart of Sandton.
Address: Fairlawns Boutique Hotel & Spa, 1 Alma Rd, Morningside, Sandton, Johannesburg
Tel: 011 808 7300
Email: reservations@fairlawns.co.za
Website: fairlawns.co.za
Facebook: @FairlawnsBoutiqueHotel
Instagram: @fairlawnsboutiquehotel