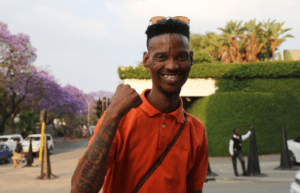 The Hop-On Joburg Art Galleries tour hosts a therapeutic art gallery tour experience for anyone and everyone in support of art tourism.
The first of its kind, this experience was pioneered by Thabo Jacob Modise (better known as Thabo the Tourist) and makes art accessible to people of all ages and backgrounds. Modise leads the tour himself, which takes visitors to some of the most prestigious art galleries in Rosebank and Parkwood.
Attendees get to meaningfully engage with Joburg's art scene during the journey and a lunch voucher is included with each tour experience. This is a three-hour walking tour but other types of tours are available on request.
Toura Travel Therapy, founded by Modise, is the brand behind Hop-On Joburg Art Galleries and aims to redefine the relationship between art and tourism. The company endeavours to make exploring the world easier for all.
Address: Rosebank, Johannesburg
Times: 10am to 1pm | 2pm to 5pm
Tel: 067 992 7247
Email: thabothetourist@gmail.com
Website: thabothetourist.wixsite.com
Facebook: @thabothetourist
Instagram: @thabothetourist