Are you planning on visiting our bushveld gem, Hartebeespoort? Well, you ought to. And you might get hungry in the process. This wondrous compilation of wetlands, bushveld, and countryside, offers a variety of venues to entice your tastebuds. With so many great restaurants in Hartebeespoort, we took it upon ourselves to help find the best Harties has to offer.
Have we missed any of your favourite spots? Please let us know in the comments below or email editor@whatsoninjoburg.com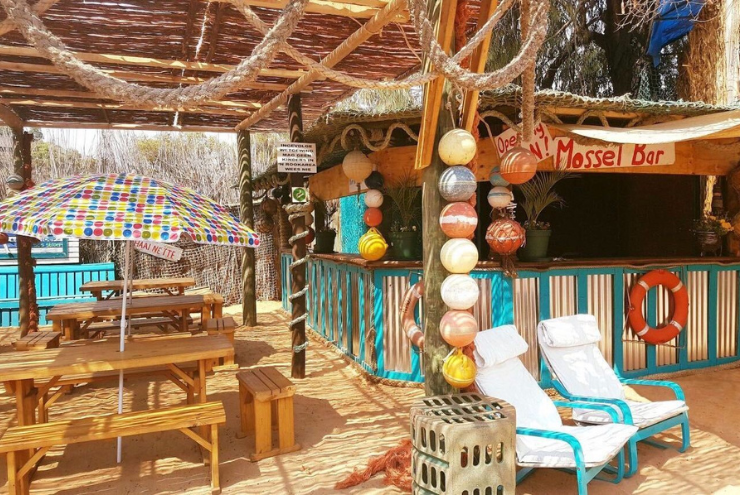 Picture the warm sun on your face, beach sand over your toes and a cool breeze on your arms. For a second, you could embrace the sensation of being near the ocean and a long distance from the city. Your surroundings? The De Vette Mossel restaurant in Hartebeespoort.
Known for its classic beach theme, De Vette Mossel provides its customers with some of the best seafood and ocean ambience in all of Jozi. The menu consists of seven courses (thirteen dishes) served one after the other, giving the sense of a buffet while you simply hang back, relax and manifest your inner beach bum.
This bushveld beach came to life in Hartebeespoort in the year 2012. Since then, it's sent customers home with a belly full of food and laughter, and a wholesome story to share whenever they told their friends about their experience at De Vette Mossel.
Bookings are essential, as the restaurant works with slotted times to prepare meals to their utmost perfection and freshness. See website or more.
Where: R511, Hartebeespoort
When: Fri – Sat: 11am – 3pm and 5pm – 9pm | Sun: 11am – 3pm
Website: harties.devettemossel.co.za | Email: harties@devettemossel.co.za | Tel: 082 346 3731
Facebook: @DeVetteMosselHartebeespoortdam | Instagram: @devettemosselharties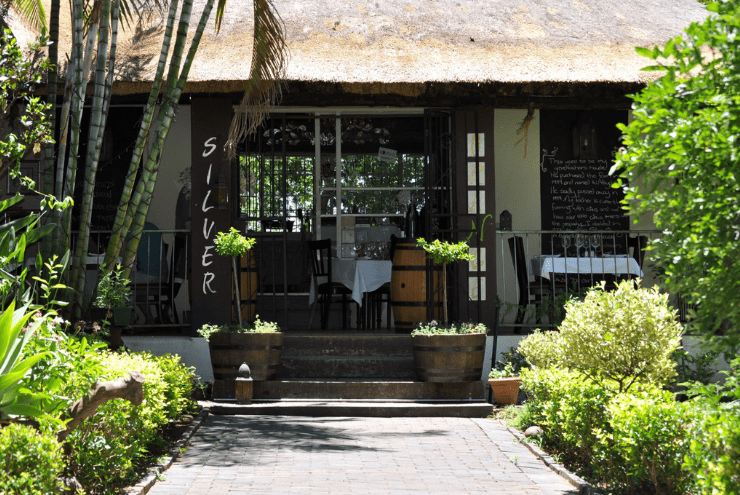 Silver Orange Bistro is a unique restaurant in Hartbeespoort that was established in the year 2004. What separates this great restaurant from others is that unlike most of the bushveld venues of Haries, this venue is situated on the lush green citrus orchard called Altyd Mooi. This family farm has been up and running since 1978 and has transformed into a prime destination over the years.
The Silver Orange Bistro is set in a beautiful thatch manor house with intriguing decor and antique Murano crystal chandeliers to elevate the fine dining experience. With prominent European influences and a flair of local African traditions and flavours, each item on the menu is carefully curated to complement the flavours of one another. Regarding the ingredients, all items as seasonal to ensure that the ingredients are fresh, local, and sustainably sourced.
To accommodate the pristine food and fine dining experience, Silver Orange Bistro offers an award-winning wine list boasting the best international and local wines.
Make a booking to secure your spot.
Where: Altyd Mooi Farm, R513, Hartbeespoort
When: Lunch: Thu – Sun: 12pm – 3pm | Dinner: Wed – Sat: 5:30pm – 8:30pm |
Breakfast: Sat – Sun: 9am – 10:45am
Website: silverorangebistro.co.za | Email: events.silverorange@gmail.com | Tel: 082 378 2948
Facebook: @SilverOrangeBistro | Instagram: @silverorangebistro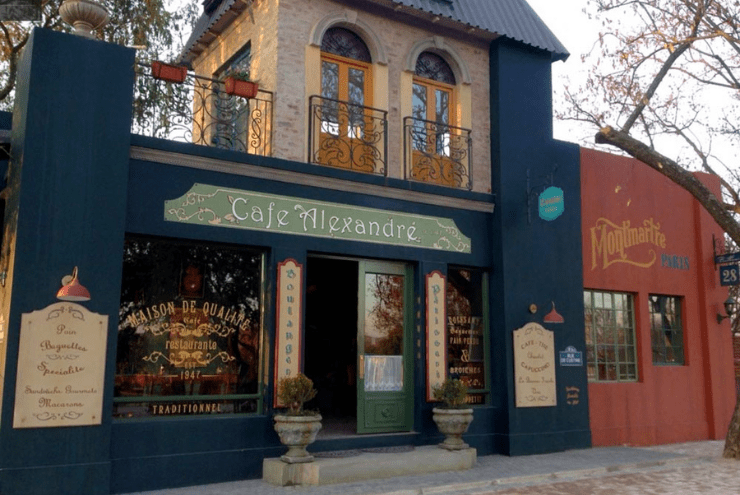 This quirky compilation of enticing attributes was specially built for the shooting of the film, French Toast, in which the restaurant is known as Café Alexandre.
The set was so well-received and beloved that it remained a permanent restaurant. Offering delicious baked goods and meals, the restaurant shakes it up and offers a slightly different menu during weekends and weekdays. Simply scan the code and browse through their digital menu on your mobile device.
For entertainment purposes, a portion of the building is allocated as a gallery which creates a unique atmosphere. There is also a 12.5m Eiffel Tower and an 'I-Love-You-wall' in front of which visitors can take fun photos or selfies. Guests can also round off the Parisian touristy shenanigans with the iconic lock bridge, where lovers seal a lock on a bridge to symbolise the strong bond of their love.
It is worth noting that the kitchen closes at 4pm.
Where: R511, Hartebeespoort
When: Daily: 7:30am – 5pm
Website: frenchtoastharties.co.za | Email: info@frenchtoastharties.co.za | Tel: 078 592 6953
Facebook: @LittleParisHartebeespoortdam | Instagram: @littleparis_harties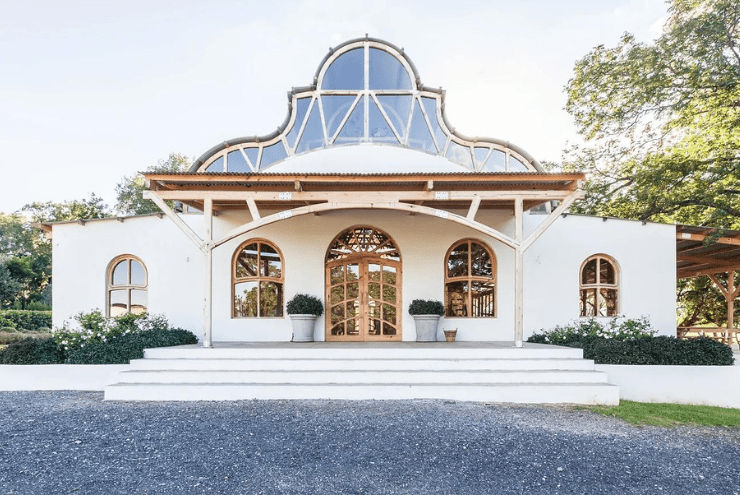 Kleine Rijke, meaning 'little riches' in Dutch, is a beautiful green jewel concealed in the bushveld of Hartebeespoort. Keeping this in mind, the restaurant set out to focus on the finer details ensuring that guests experience an unforgettable visit that will create everlasting memories.
The farm originally belonged to Andries Pretorius, a prominent figure in Afrikaans History, and has been passed on to the Pretorius family since his death in 1853. Because of the heritage, it is only natural that the venue was designed with the classic Cape Dutch architectural style in mind.
The restaurant also houses a shop, a workspace, and a showroom for the works of David Krynauw.
Bookings are only essential if your pax exceeds a total of 6, or if guests are planning on visiting the restaurant over the weekend.
Where: R512, Hartbeespoort
When: Tue – Fri: 9am – 5pm | Sat: 8:30am – 2:30pm
Website: kleinerijke.com | Email: jasmyn@kleinerijke.com | Tel: 072 146 0278
Facebook: @KleineRijke | Instagram: @kleinerijke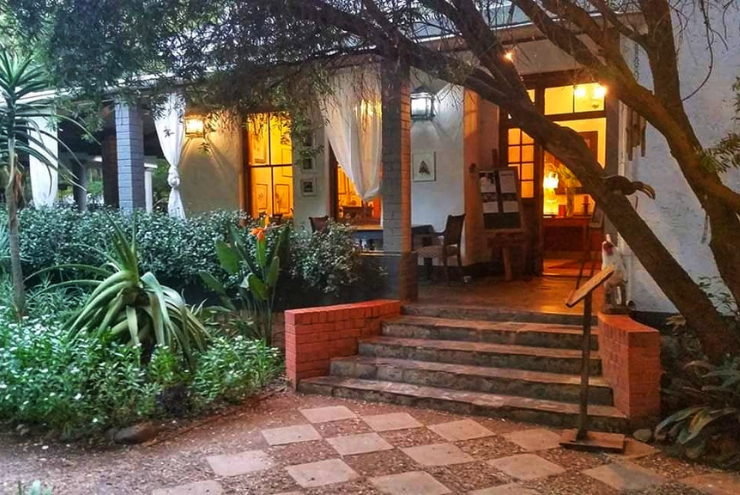 On the edge of the Cradle of Humankind, near the foothills of the Magaliesberg mountain range, rests a lovely and secluded spot named, Die Ou Pastorie.
More commonly known for its hosting of musical events, and weddings, it is the perfect venue to provide a sanguine space in which guests can relax in luxury in the countryside, as they galavant their way through Magaliesberg and Hartebeespoort.
The Deli on the premises has taken the restaurant's most popular treats and desserts and packaged them in jars and other pretty containers to be enjoyed on your drive or in your own home.
Die Ou Pastorie offers on-site accommodation for a maximum of 12 people in six eclectic four-star garden suites. Their heritage-building restaurant opens especially for guesthouse guests' dinners and for their bi-monthly live music events, 'Under the Trees'
For bookings and enquiries regarding the accommodation, or anything related to the restaurant, simply contact them via email.
Where: S56, Route 560, Skeerpoort, North West
When: By Booking
Website: dieoupastorie.com | Email: info@dieoupastorie.com
Facebook: @DieOuPastorie | Instagram: @dieoupastorie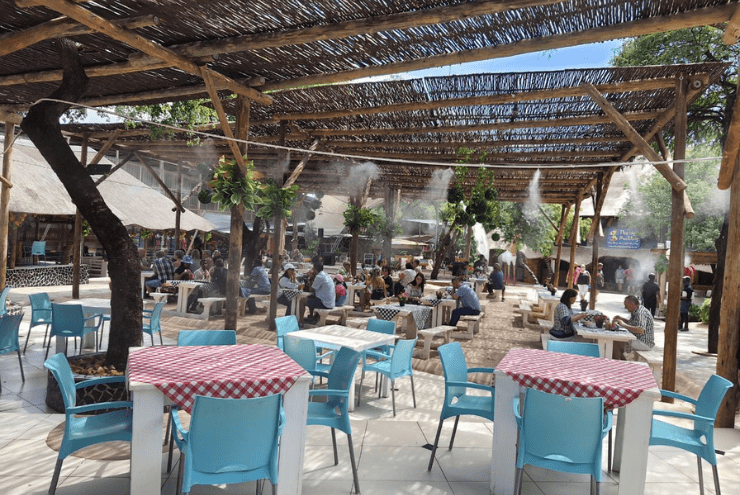 Chameleon Village, originally known as the market with trinkets from all of South Africa's various cultures for tourists, has evolved into a family-friendly outing destination for its locals and tourists alike.
Boasting an array of various food choices, Chameleon Village offers great restaurants with flavours from all over the world. These options are restaurants such as Ristorante Italiano, Madagascar Café, Taj Halaal, Poolside Café, and Pemba (Mozambican).
Once guests have enjoyed their meals, Chameleon Village has many other activities and venues spread around the premises for visitors to experience. Whether you would like to walk around and listen to live music as you browse through the market stalls for miscellaneous trinkets, play a round of mini-golf, drive some go-karts or learn about snakes and other reptiles, Chameleon Village really is the ideal family destination in Harties.
Where:Chameleon Village, R104, Old Rustenburg Rd Damdoryn, Hartbeespoort
When: Daily: 9am – 5pm
Website: chameleonvillage.co.za | Email: marketing@chameleonvillage.co.za | Tel: 079 273 7842
Facebook: @chameleonvillagehartebeespoort | Instagram: @chameleonvillage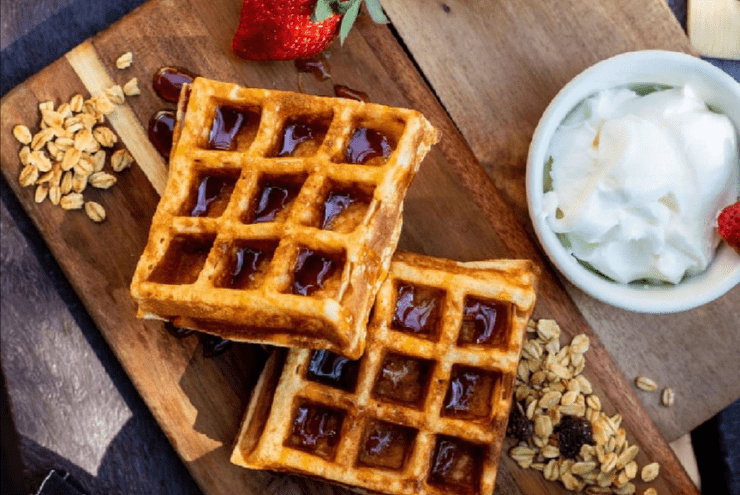 Famous for the architectural design of a Dutch Windmill, this charming family-friendly restaurant in the heart of Hartebeespoort is a prime spot for a quick breakfast or meal of any time for that matter.
The menu offers true Dutch meals and a variety of traditional South African favourites. The Windmill also boasts a fantastic food store stocked with items such as fresh farm produce, cheese, delicacies and snack from all around the country.
Simply grab a seat on the deck to enjoy the views of rolling green hills in the distance, and the Magalies Mountains and dam, while the kids run around and play in the dedicated playground. Or enjoy the cosy inside decorated with minimalistic concepts and a Dutch-style interior.
Unfortunately, the restaurant does not take any reservations on weekends. However, for corporate events and special functions like birthdays or year-end functions, it is best to make bookings well in advance.
Where: 1 Jan Smuts Ave, Hartebeespoort
When: Daily: 8am – 5pm
Facebook: @TheWindmillRestaurant | Email: wikus@the-windmill.co.za | Tel: 066 232 4747 or 084 021 8233