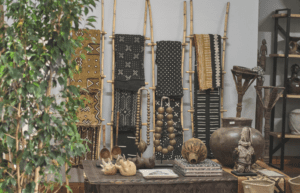 The Trov (pronounced 'The Trove') in Rosebank is a gallery and retail space that connects authentic African culture and its people one work at a time. 
The concept of the space is their dedication to community, storytelling, and the ethical sourcing of artworks and other decorative pieces to develop a deep and abiding affection for Africa and its people.
Whether you're looking for a unique present, a decorative accent for a shelf, or a conversation starter for your living room, you'll find it there.
Pop in for a sensory trip throughout the African continent and explore the myriad of cultures through a curated collection of artefacts and decorative pieces.
An art gallery can also be found downstairs showcasing the works of both established and up-and-coming photographers and artists.
Keep an eye out for their regular First Thursday meetup events running every month.
Address: 39 Keyes Ave, Rosebank
Times: Tues to Fri from 9am to 5pm | Sat 9am to 3pm | Sun and Mon closed
Tel: 082 321 6113
Email: lynn@trov.co.za
Website: www.thetrov.co.za
Facebook: @TheTrovSA
Instagram: @the.trov