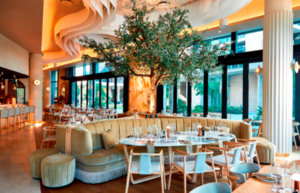 Ethos restaurant welcomes both the warmer weather and a brand new head chef with the launch of its seasonal summer menu.
The Mediterranean-inspired restaurant, located in Rosebank, now showcases new head chef Mpilo Mokoena's combination of simple family-style Italian cooking and French flair. Signature dishes that he has created for diners for the new menu include Josper Grilled Octopus, a Greek-Style Lamb Shank and roasted Almond Panna Cotta.
Other items to try include a selection of salads, pasta, tapas, grilled dishes and desserts. Live music and salsa events also take place at the restaurant regularly, so keep an eye on the Ethos social media for more information about the next event.
Ethos stands as a testament to the flavours of the Mediterranean and is beautifully designed with elegant features. The restaurant moved to its current location in September 2021 and has since received rave reviews.
Address: Oxford Parks, cnr Eastwood and Parks Blvd, Rosebank, Johannesburg
Times: Mon to Sun 12pm to 11pm
Tel: 010 446 9906
Email: info@ethosrestaurant.co.za
Website: www.ethos.restaurant
Facebook: @ethos.sa
Instagram: @ethos.sa