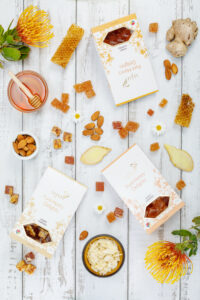 At What's on in Joburg we're always keen on spotlighting local makers as well as products with a conscious living edge. Uju Pure Honey Gummies is a first for South Africa – a superfood in sweet form. Uju translates to honey in isiZulu. The artisan gummy sweets are proudly made in Cape Town in small batches and using Fynbos honey that is sourced locally and responsibly from our honeybees. Founder Brett Emmerson came up with this pioneering concept and crafts the product at their Hout Bay venue.
Honey is a staple for home remedies and the nutritional value of this antioxidant-rich superfood has been explored at length. That's why is Uju Pure Honey Gummies so unique. Serving only the health benefits of honey without any of the nasty additives of commercial sweets.
Texture-wise, the gummies lean more towards the firm but somewhat soft feel of Turkish delights and are made up of miniature cubes which can look quite dainty in a serving bowl.
There are three flavours available – Original clean flavour that allows the honey profile to stand on its own, Ginger with a faint ginger root taste made with authentic ingredients, and Almond for some crunchy bits and nut aroma. All three varieties are dusted with a light dusting of non-GMO starch.
Uju Pure Honey Gummies are Vegetarian, Halaal-certified and free from cane sugar, gelatine, colourants, flavourants, preservatives, gluten, dairy and all the nasties. Sweeten up snack time for kids with a packet with the lunchbox, or keep one in your bag for those times you need a quick sugar rush.
Shop Uju Pure Honey Gummies online for delivery. For retailing enquiries, please reach out via email.
Wherer to shop: Online
Tel: 071 266 8042
Email: info@iloveuju.com
Website: iloveuju.com
Facebook: @iloveujuhoney
Instagram: @iloveujuhoney