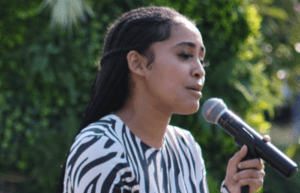 Singer and songwriter Reba Red performs Awake, a live music show in front of an audience, at the Trov in Rosebank on 28 January.
The alternative R&B, jazz and soul vocalist hosts her first-ever one-woman show along with a backing band. Outside picnic baskets and own alcohol are welcome for this experience.
Red's first EP was released in 2022 and the singer has also performed on JR's Feel Good Live Sessions and the first annual Basadi in Music Awards.
Venue: The Trov, 39 Keyes Ave, Rosebank, Johannesburg
Time: Sat from 3.30pm to 6pm
Cost: R150
Email: rebabookings@gmail.com
Website: instabio.cc
Facebook: @RebaSouthAfrica
Instagram: @reba_southafrica