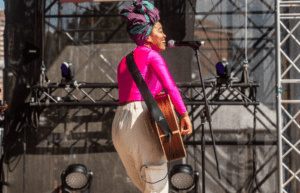 The fourth edition of Cotton Fest Joburg, a celebration of young culture, comes to The Station in Newtown on 4 February.
The University of Cotton Fest brings the city a full lineup of music on the day. And in 2023, the event has also expanded to include an Open Mic Competition, where over 500 entries are whittled down until only the top three artists and DJs perform on the Cotton Fest stage.
Cotton Fest is curated by Riky Rick and also takes place in Cape Town. Please note that over 60% of the tickets for this event have already sold out.
Venue: The Station, Newtown, Johannesburg
Time: Sat from 12pm
Cost: R200 – R395
Website: cottonfest.co.za
Facebook: @CottonFestJHB
Instagram: @cottonfestjhb
Twitter: @CottonFestJHB