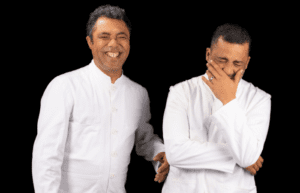 Joe Barber's Family Reunion sees beloved characters back on stage and in Joburg for three shows at Emperors Palace from 27 to 29 April.
23 years after Joe Barber was first introduced to audiences, David Isaacs and Oscar Petersen are back again with special guest Early B. The performance sees the characters of Boeta Joe, Boeta Gamat, Outjie and Washiela entertain audiences.
Joe Barber's Family Reunion is directed by Lara Bye and produced by Ian Bredenkamp. Please note that no under 12s are permitted into this performance.
Joe Barber has been running since 2000 and is a comedy show that explores Cape Town culture.
Venue: Centre Court, Emperors Palace, Kempton Park, Johannesburg
Time: Thurs to Sat from 8pm
Cost: From R200
Tel: 011 928 1010
Email: info@emperorspalace.com
Website: www.emperorspalace.com
Facebook: @EmperorsPalaceResort | Joe Barber's Family Reunion
Instagram: @emperors_palace
Twitter: @emperorspalace