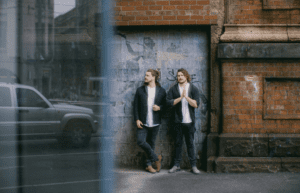 Australian musical duo Pierce Brothers are back performing in South Africa for one show only at Copper Bar on 5 April.
The musical act, comprised of twins Jack and Patrick Pierce, perform a blend of indie-folk and blues music and is considered a staple of the Australian music scene. During the Johannesburg visit, the Pierce Brothers perform favourites as well as songs from Into The Great Unknown, the newest album produced in 2020.
Martin Gill opens on the night at Copper Bar, which is located in Bryanston and is open for both private events and to the public.
Venue: Copper Bar – Bryanston, Corner Main Office Park, 2 Payne Rd, Sandton, Johannesburg
Time: Wed from 5pm to 9pm
Cost: R295
Tel: 071 516 4846
Email: info@copperbar.co.za
Website: www.piercebrothers.com
Facebook: @piercebrothersmusic | Pierce Brothers (Australia) Live at Copper Bar, Bryanston
Instagram: @piercebrothersmusic
Twitter: @pierce_brothers