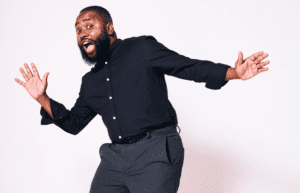 Step Aside, the new one-man show from comedian Eugene Khoza is performed for one night only at Emperors Palace on 11 March.
With his unique brand of humour, Khoza explores life and interpersonal relationships in light of everything he learned during the Covid-19 pandemic. This is Khoza's first show in five years.
Blu Blood Africa and Emperors Palace have come together to host this production. Aside from his comedic work, Khoza is also known as a producer, media personality, entrepreneur and podcaster.
Venue: Theatre of Marcellus at Emperors Palace, Kempton Park, Johannesburg
Time: Sat from 8pm
Cost: R160 – R180
Tel: 011 928 1010
Email: info@emperorspalace.com
Website: www.emperorspalace.com
Facebook: @eugene.khoza.5 | Eugene Khoza – Step Aside
Instagram: @eugene_khoza
Twitter: @eugenekhoza