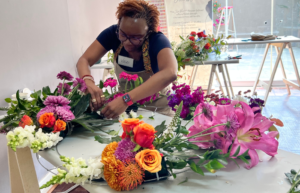 These weekend Creative Play Sessions in March, April and June are a chance to have some flower fun.
Jill Manson of Jill Manson Flower Journeys offers members of the public three Creative Play Sessions in Blairgowrie in March, April and June. Participants of all skill levels watch Jill create a flower design in line with the theme before trying it themselves.
Fri 17 Mar from 6pm – 9pm: Flower Fiesta
This event celebrates all things Spain with the creation of a Spanish-inspired floral arrangement, sangria and tapas.
Sat 1 Apr from 10am – 1pm: Carnival of dreams
This course is all about fantasy-inspired floral arrangements and is a chance to try out some out-of-the-box ideas.
Sat 24 June from 10am – 1pm
A Baroque-inspired floral experience, this session sees attendees create a feast-inspired piece featuring flowers, fruits and food.
A light meal and refreshments are included in each session as well as the flowers, containers and floral equipment required for each. Participants need to bring floral scissors/secateurs or else can purchase them on the day for R400. Please email the company using the email address below to book.
Jill Manson Flower Journeys is owned by celebrity florist Jill Manson and offers a range of flower experiences such as floral design classes and arrangements for special events.
Venue:  22 Mackay Ave, Blairgowrie, Johannesburg
Time: Fri from 6pm to 9pm | Sat from 10am to 1pm
Cost: R1750 (excluding VAT)
Tel: 082 565 2054
Email: info@jillmanson.co.za
Website: www.jillmanson.co.za
Facebook: @flowerjourneys
Instagram: @jillmansonflowers
Twitter: @_jillmanson