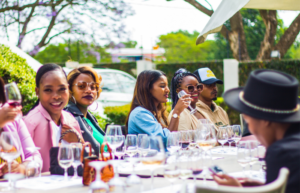 Social Saturdays host the Tasting Room at the Capital on Bath in Rosebank on 4 March for a food, drinks, music and vibes experience.
Founder and wine connoisseur Nkos'khona Khumalo takes attendees through an intimate tasting experience with wine, a spread of platters and live entertainment. The afternoon features three carefully selected wines to taste as well as a mystery wine at the end that participants must try and identify.
Patrons are seated at one long table for the event.
Social Saturdays take place on the last Saturday of each month and celebrate traditional South African cuisine. The Tasting Room is a breakaway experience and an inclusive space to enjoy food and drink.
Venue: The Capital on Bath, 72 Bath Ave, Rosebank, Johannesburg
Time: Sat from 3pm to 6pm
Cost: R350
Tel: 061 494 5861
Email: socialsaturdays01@gmail.com
Facebook: Social Saturdays 
Instagram: @_social.saturdays