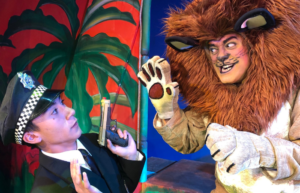 Peoples Theatre presents Madagascar – A Musical Adventure JR to Jozi audiences at the Joburg Theatre from 19 March until 23 April.
A musical adaption of DreamWorks beloved animated film, the story follows zoo animals Alex, Marty, Melman and Gloria on a wild adventure as they find themselves a long way from the Central Park Zoo. Luciano Zuppa plays Alex the Lion, Nonhlanhla "Noni" Mkhonto plays Gloria the hippo, Lesedi Mpshe plays Melman the giraffe, Manyano Ngoma plays Marty the zebra and Raymond Skinner plays King Julian of the lemurs.
Joburg Theatre was opened in 1962 and is located at the top of Braamfontein hill in Johannesburg.
Venue: Joburg Theatre, Cnr Hoofd Str & Civic Blvd, Braamfontein, Johannesburg
Time: For schools Tues to Fri 9am and 11am | Public weekends and school holidays at 10.30am and 2.30pm
Cost: R140 – R165
Tel: 011 877 6841
Email: info@peoplestheatre.co.za
Website: www.joburgtheatre.com
Facebook: @joburgtheatre
Instagram: @joburgtheatre
Twitter: @joburgtheatre