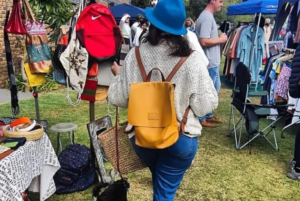 This March, Pretoria's Vintage and Decor Show demands the attention and attendance of all lovers of antiques, thrift shopping, art and family-friendly fun.
The event is held at the CBC Old Boys Club in the welcoming and sunny city of Tshwane, on a public holiday, 21 March 2023 from 8:30am to 2:30pm.
Collectors of antiques, quirky paraphernalia and miscellaneous items of the olden days can enjoy the wonderful family market with stores exhibiting their precious goods in collaboration with My Thrift Fashion Fair. Guests can expect more than 140 exhibitors offering clothing, jewellery, art, books, flowers, cakes, bakes, home decor, collectables, vintage clothing, branded fashion items and many more.
Enjoy the aesthetics and mechanical wonders at the vintage car show, take a ride on an old high-wheeler or grab a delicious plate of Italian cuisine at the on-site Restaurant offering alcoholic beverages such as champagne, gin and beer.
The market hosts a traditional Easter Egg Hunt for children's entertainment. The hunt puts the kids to the test as they get to think creatively and experience the pure joy of running around whilst looking for hidden items.
The market is pet friendly. So, guests can also bring their furry kids along as long as they remain on a leash.
Entrance and parking for the event are free.
Venue: CBC Old Boys Club, 78 George Storrar Dr, Groenkloof, Pretoria
Time: 21 March 8:30am – 2:30pm
Tel: 063 273 0373
Email: yolanda@cardilogix.co.za
Facebook: @PretoriasVintage&DecorShow
Instagram: @pretoria_vintage_show