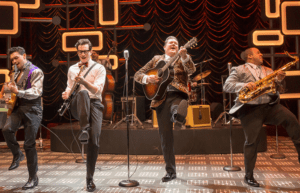 Pieter Toerien presents a brand-new, full-scale production of the HIT Rock 'n Roll jukebox musical BUDDY – The Buddy Holly Story at Montecasino from 21 April to 28 May.
The Teatro theatre is the venue for this performance, which features an all-South African lineup including local singer-songwriter Jethro Tait as the legendary Buddy Holly. The ensemble cast also includes Bethany Dickson and Keaton Ditchfield among others.
The audience will recognise a number of the songs featured, including That'll Be The Day, True Love Ways, Oh Boy, La Bamba, Rave On, Everyday, Johnny B. Goode, and the timeless Peggy Sue.
Venue: The Teatro, Montecasino, Teatro Rd, Fourways, Johannesburg
Time: Wed to Fri from 8pm | Sat 3pm and 8pm | Sun 2pm and 6pm
Cost: R150 – R500
Email: info@pietertoerien.co.za
Website: www.pietertoerien.co.za
Facebook: @MontecasinoTheatre
Instagram: @Pietertoerienproductions
Twitter: @MONTECASINOZA