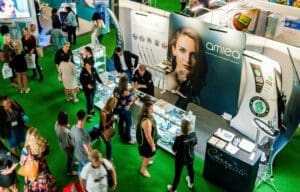 The Joburg Health, Beauty and Lifestyle Expo showcases over 100 local and international exhibitors.
With live demonstrations, makeovers and masterclasses, the event offers a variety of information. Expert medical practitioners are on hand to give the latest skincare tips and trends, while nutritionists and dieticians explore the benefits of healthy eating and a dietary approach to living a healthy lifestyle and reaching a desired goal.
Guest speakers include
– plastic and reconstructive surgeon Dr Chetty on the latest skin treatments
– The Heart & Stroke Foundation on how healthy skin reflects a healthy heart
– well-known make up brand Bobby Brown on achieving a desired make up look
This event is wheelchair friendly.
Venue: Gallagher Convention Centre Richards Dr, Halfway House, Midrand, Johannesburg
Date: 29 & 30 April 2023 | 9am to 5pm
Cost: From R150 no U13 allowed

Facebook: SABeautyExpo