Hyatt House Johannesburg is once again offering a special Iftar buffet menu running for the holy month of Ramadan only. 
Their restaurants in Rosebank and Sandton are inviting guests to dine on a flavoursome three-course menu with drinks included daily until 9pm. Whether you're observing Ramadan or just after a Johannesburg restaurant serving authentic cuisine in a chilled atmosphere, this experience is worth a try.
MERGING MIDDLE EASTERN AND CAPE MALAY CUISINE
The team welcome guests with a lassi in mixed fruit and mango, or a rose-infused drink with herbs, root, and other flavours served in the open kitchen space. Start off with soft dates to break the fast and a selection of samoosas with mint chutney, chilli bites, and a range of Middle Eastern faves such as falafels, baba ganoush, hummus and more to make your own mezze platter.
Next comes a table filled with bottomless savoury dishes. Think hearty butter chicken that melts in the mouth, a mix of grilled meats, and Tandoori lamb chops cooked to perfection at the restaurant's bespoke oven. Vegetarians can tuck into Dhal Tadka and a roast vegetable casserole which goes together well with nutty saffron rice.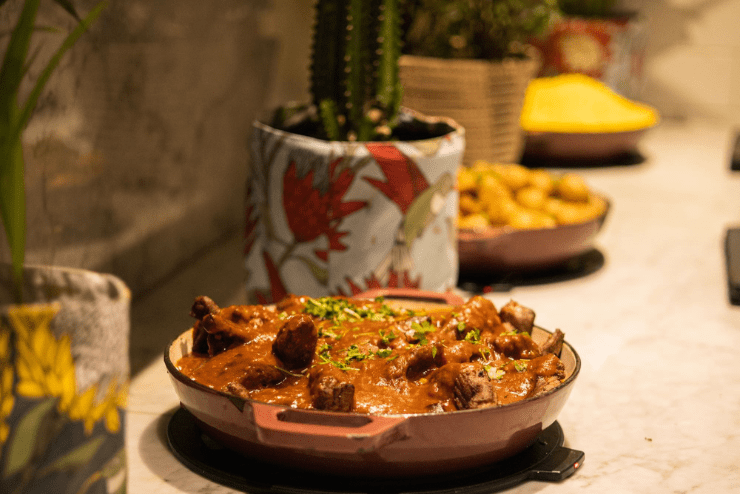 For dessert, the rich and decadent semolina pudding is bound to win over many but also try the individually baked and crustless Malay spiced milk tartlets or chai pudding.
'We decided to go with a Middle Eastern, Sub Continental and Mediterranean feel on our menu having taken into consideration all the feedback we received last year, says Hyatt Hotels SA Specialty Chef, Asif Mughal. 'There is something for everyone on the menu, from the starters to the mains with some traditional dishes accompanying authentic street food and nibbles. The beverage offering also sees traditional yet refreshing options on the menu,' explained the chef. 
The atmosphere at both venues is relaxed with modern, understated furnishings in earthy neutrals.
Cost: R330pp, book online or via email
When: Daily, until 9pm
Where: Sandton – The Medley at Hyatt House Johannesburg Sandton, 25 Ann Cres, Simba, Sandton | Rosebank – The Collective at Hyatt House Johannesburg Rosebank, 28 Tottenham Ave, Melrose, Johannesburg
Tel: Sandton – 010 601 1234| Rosebank – 010 476 1234
Email: central.reservations.za@hyatt.com
Website: hyattrestaurants.com
Instagram: @hyatthousejohannesburgsandton | @hyatthousejohannesburgrosebank
Facebook: @hyatthousejohannesburgsandton | @hyatthousejohannesburgrosebank